On the Agenda: November 17th, 2009
The Fullerton City Council has just released their agenda for November 17, 2009.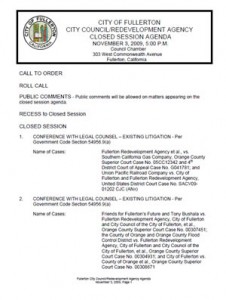 Let's start off with agenda item #8. At a glance it looks like a little book keeping business. Upon closer inspection it appears that the Feds gave the County a grant for the City to purchase 35 tasers. The proposed cost is shown as "None." I guess training is free?? According to the Chief, each and every patrol officer should have one. I have never seen 35 patrol officers in Fullerton at one time. I think the most patrol officers I have ever seen at one time in Fullerton numbered 7. How about one in each car/bike/motorcycle and a few in the station. Do they need to take the tasers home? And back on the training… According to taser.com, training runs about $395 per person. That doesn't sound too bad until we remember that we will be paying the patrol officer to sit in a classroom for 6 hours or more rather than patrol the City. Unless there is grant funding to cover the overtime for training, I think the Chief might be mistaken about the proposed costs being "None." And what about the liability of injury or death which may be less than striking someone with a baton or shooting them with beanbags?
Item #9 is over 100 pages long! From my brief reading it appears to allow the City to take over residential properties to avert abandonment and blight. That sounds a lot like federally subsidized redevelopment without having to declare blight. It's like a preemptive condemnation. Are we really feeding the machine? This is on the consent calendar as "routine" and is to be lumped together with the tasers and some traffic-related items. The most interesting part is that this agreement will lock us in with Costa Mesa , La Habra , and MHC NSP LLC. Who is MHC NSP LLC? The program cost is shown as $1,369,854. Chump change?
Council is supposed to discuss the appointment process for commissioner. See item #10.
Item #11 is a pay cut for certain personnel. It also pushes the current 2% @ 55 to 2% @ 60. Sounds like a good idea.
Item #12 is the shocker! The City Council is proposing a program whereby they "…may contribute back to the City a portion of their salary." There is a little more to it than a pay cut. It seems to be voluntary. The Attorney General wrote an opinion on this and noted that State law requires that pay increases begin when an official takes office. The same appears to be true with decreases in pay. So, in an effort to give back a portion of their pay, ±7.5%, they need to pass this resolution. Ok, it gets my vote.
I hope you will take a minute to read the supporting documents which are linked from the posted agenda. If I missed anything, please let us know so we can discuss.
Keep your eyes open for the December 1st meeting. Tentatively scheduled are a few hot-button issues. They include everyone's favorite, West Coyote Hills, the North Orange County Transportation Partnership MOU, and a public hearing on the landscape ordinance.