Fullerton's City Prosecutor Threatened Me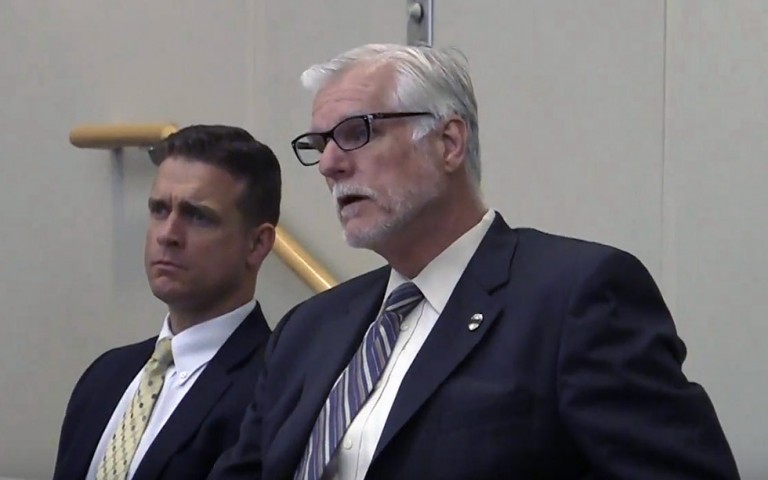 Thanks to our friend and contributor Lonnie Machin's recent posts on this blog, the City of Fullerton has decided to send a Cease and Desist letter threatening me and "Friends for Fullerton [sic]" with legal action.
The letter in it's entirety is as follows:
Joshua Ferguson
Friends for Fullerton
Re: Cease and Desist – City of Fullerton Police Department

Dear Mr. Ferguson,

It has come to the attention of the City of Fullerton that you have recently published on your website documents which have clearly and undoubtedly been sourced from the confidential personnel files of several current and/or former Fullerton Police Officers. The State of California has statutorily recognized this right of confidentiality. (See Penal Code §§ 832.5, 832.7 and 832.8.) Any disclosure of such confidential records is strictly limited and must be authorized by a court order from a Superior Court judge. (See Evidence Code §§ 1043-1047; Pitchess v. Superior Court(1974) 11 Cal.3d 531 and its progeny.) Indeed, the Fullerton Police Department has an affirmative duty to resist attempts at unauthorized disclosure and the officers who are the subject of such records expect their right of privacy will be respected. (See Craig v. Municipal Court for the Inglewood Judicial District et al. (1979) 100 Cal.App.3d 69.) Finally, the improper disclosure of such records is prosecutable as a misdemeanor violation of law under Government Code section 1222 (See Attorney General Opinion, 82 Op. Att'y Gen. 246 (1999).) Any person facilitating the illegal disclosure of such documents in violation of the law may be prosecuted as either a principal in that crime or as an aider and abettor.

For all these reasons the City of Fullerton demands you immediately:

1. Remove these Confidential Documents from Your Blog within one hour of your receipt of this e-mailed cease and desist letter;

2. Refrain from posting any other Confidential Documents illegally obtained to Your Blog in the future:

3. That you immediately send to our office within 24 hours all Confidential Documents you and your employees have in your possession. You are also instructed not to make any copies of the Confidential Documents in any form (including but not limited to electronic, imaged, hard copies, etc.)

3. That you immediately delete all electronic copies of the Confidential Documents in your and your employees' possession.

Your failure to follow these instructions can result in legal action being taken against Friends for Fullerton's Future wherein the City will seek all necessary legal remedies.

We require your immediate compliance with this cease and desist letter. Notify the undersigned of your compliance with the above within 24 hours of your receipt of this correspondence.

Thank you for your prompt attention to this matter.

Gregory P. Palmer
City Prosecutor
City of Fullerton
When I received this letter, the first thing I did was send it to this blog's legal counsel and then I waited for a response. Being that the City of Fullerton has lied to me about the law in the past, I figured I should run it by our attorney and I'm glad I did as a blog without a lawyer on retainer would be in a much worse position not knowing the facts.
Before delving into the legal issues raised by Mr. Palmer, I'd like to point out that no libel or defamation is claimed in Mr. Palmer's letter. In fact, he explicitly alleged that (emphasis added) "you have recently published on your website documents which have clearly and undoubtedly been sourced from the confidential personnel files of several current and/or former Fullerton Police Officers.".
This is an obvious admission that what has been published is accurate. Despite where the documents were sourced, in his legal capacity, Mr. Palmer asserts that these are the same files as those found in personnel files and thus true and factual.
Because of the threat, I contacted Dan Snyder of the First Amendment Coalition and after reading the Cease and Desist letter he offered the following comment:
"If the city is claiming that it can criminally prosecute a blog for publishing material the city inadvertently made available, they are dead wrong. Any lawyer for the city should know that the U.S. Supreme Court has made abundantly clear that publication in such circumstances is protected under the First Amendment from civil or criminal liability. It has a very real chilling effect for the government to make irresponsible and legally baseless threats suggesting otherwise."
Mr. Snyder isn't the only person who has such a belief.
After speaking with another First Amendment Advocacy group based in DC, I was told off the record, that despite the assumptions by City Prosecutor Gregory P. Palmer that we illegally obtained documents, this threat of criminal prosecution by the City of Fullerton flies in the face of Supreme Court precedent even if he was correct (emphasis added):
In Bartnicki v. Vopper, 532 U.S. 514 (2001), the Supreme Court found that the First Amendment protects speech that discloses the contents of an illegally intercepted communication.

Citing New York Times Co. v. United States (1971) and other cases, the Court asserted that "[a]s a general matter, 'state action to punish the publication of truthful information seldom can satisfy constitutional standards.'" The Court thus carefully limited the question to be decided before considering the two interests asserted by the government in support of the statute.

In its ruling, the Court held that an interest in deterring the illegal interception of communications, while sufficient to allow application of the statute to those taking part in the illegal interception, could not be extended to allow the punishment of otherwise innocent third parties to discourage such interceptions.

In response to the second interest asserted by the government, that of protecting the privacy of communications, the Court acknowledged the "strength" of this interest, but held that, under these facts, even "privacy concerns give way when balanced against the interest in publishing matters of public importance."
It was also brought to my attention by several lawyers who specialize in the First Amendment that Palmer's assertions likewise fly in the face of California's "Reporters' Shield Law" (emphasis added):
The reporter's shield law contained in the California Constitution prohibits a publisher, editor, reporter, or other person connected with or employed by a newspaper, magazine, or other periodical publication, or by a press association or wire service, from being held in contempt for refusing to disclose the source of any information procured for publication while so connected or employed. The law also prohibits any of those persons from being held in contempt for refusing to disclose any unpublished information obtained or prepared in gathering, receiving, or processing information for communication to the public.
Not only is Mr. Palmer threatening me personally, and this blog, for publishing things it is legally entitled to publish, he is assuming a crime for which there is no evidence and citing a legal code (Govt Code §1222) as a misdemeanor with which to threaten me personally.
I also spoke to attorney Terry Francke at CalAware about this and his response was as follows:
Joshua, as the City Attorney should have noticed, Government Code Section 1222 creates misdemeanor liability for public officials and employees, not those outside the government. Every wilful omission to perform any duty enjoined by law upon any public officer, or person holding any public trust or employment, where no special provision is made for the punishment of such delinquency, is punishable as a misdemeanor.

Moreover, in Florida Star v. B.J.F., 491 U.S. 524 (1989), the Supreme Court held that the First Amendment precluded a newspaper from being held civilly liable under state tort law for publishing the name of a rape victim. The decision was similar to that in Cox Broadcasting Corp. v. Cohn (1975). Criminal liability would be all the more unavailable.
Only Palmer's assumption that somebody holding public trust broke the law to get this blog information of public importance allows his argument to even come close to the smell test.
To further complicate things, it appears that Palmer's reading of Penal Code §§ 832.7 and 832.8 ignores the amendments to it as specified in SB1421 which became law on 01 January 2019. He is quoting outdated versions of laws with which to threaten somebody (me) and a news organization (this blog) for utilizing the First Amendment in a way inconsistent with the city's preferences.
It is true that Katheryn Hamel's settlement agreement wouldn't be disclosable under SB1421 because they dropped two IA investigations into her specifically to avoid compliance with that law. Christopher Wren, however, was terminated partly for false statements (emphasis added):
5. On December 17, 2017, when Lieutenant Cleggett asked you your whereabouts, you dishonestly stated to Lieutenant Cleggett that you had been on the phone with your wife when in fact you had been meeting with Officer Riedl.
A sustained finding of dishonesty falls well within the statutory limitations of SB1421 for disclosure. Just because Fullerton refuses to comply with SB1421 doesn't change the fact that it is the law of the land.
To sum up, we have Gregory P. Palmer, Fullerton City Prosecutor, with the full knowledge and consent of two other city attorneys, the City's HR director and the City Manager, threatening myself and this local blog using ethically dubious tactics and legally dubious claims. He is misrepresenting the law and making broad based assumptions with which to justify his threats of criminal prosecution because the city is mad at the use of the 1st Amendment.
Much like Manny Ramos waving his gloved fists into the face of Kelly Thomas and saying "See these fists? These fists are about to f*ck you up…", Palmer is trying to make this blog buckle to his threats and position of authority.
Finally this brings us to the point of what we, the news organization known as the Friends For Fullerton's Future, are going to do going forward.
We have taken the advice of our attorney and opted to stand firm. We will not be cowed by this city's threats and demands. Those in City Hall, such as City Manager Kem Domer, HR Director Gretchen Beatty & City Attorneys Dick Jones and Ivy Tsai who were clearly copied on Gregory Palmer's email to me and this blog and thus involved in this ethically dubious intimidation tactic should be ashamed of themselves.
Fullerton's attorneys & management who approved this Cease and Desist letter obviously don't know the law. They don't know the difference between right and wrong, and worse, they clearly do not care.
It's time for our City Council to at least fire the City Attorney and finally get the legal representation the residents and taxpayers deserve and fund with their hard earned tax dollars. Council should also have a long hard conversation with the City Manager and HR Director who aided and abetted this issue.
If the City wants us to stop exercising our 1st Amendment rights, I suppose Mr. Palmer can attempt to explain to Council what and who has remedies.