"Public Safety" Isn't Done With Us Yet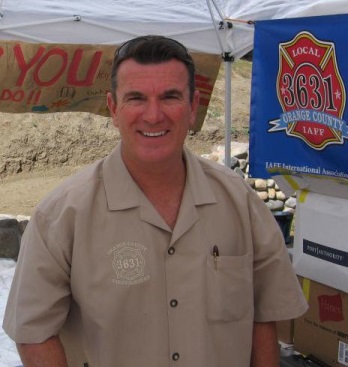 Another would-be County Supervisor has declared his 2018 candidacy for the 4th District. His name is Joe Kerr. He is a Democrat. He is also the former boss of the union that represented the Orange County Fire Authority. As such it was his sole responsibility to shove his hand as hard and as deep into the pockets of the taxpayers as possible to provide his members with spectacular pay and pensions, and to perpetuate a scam in which his members enriched themselves on a gamed overtime system.
Voters will not hear about that from Mr. Kerr, of course, even as he brings in "public safety" union bucks to grease his campaign, We will hear that Joe is Fire Hero and Deserves.
Will the voters go for this? I don't know. Right now Fullerton is facing a massive fiscal drain due to the exploding pension costs of the cops and the "fire fighters." Having one of the chief perpetrators of this meltdown trying to run for public office seems ill-timed.
Or maybe it's all a some sort of a twisted joke.