Elevators to Nowhere – Construction Begins! Oh, Wait. No It Doesn't.
Friends, here is another in a series of posts about Fullerton's ill-fated "Elevators to Nowhere" series by "Fullerton Engineer"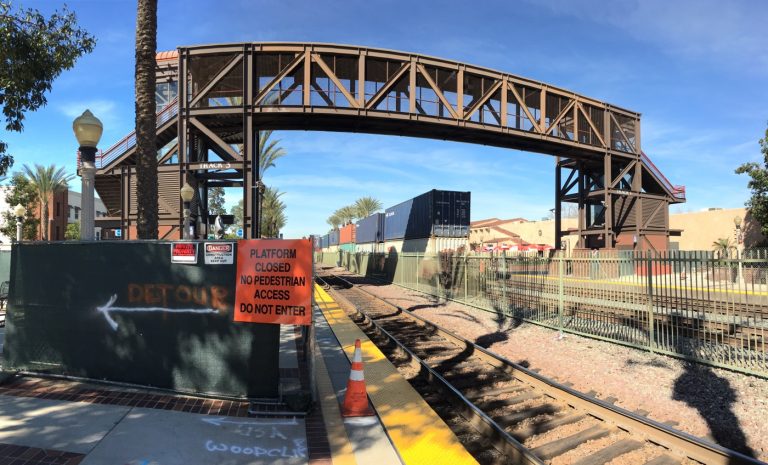 In following the trajectory of the new elevator project at the Fullerton train station I have described a project that the public neither wanted nor needed, that had its genesis in the simple availability of "free money" way back in 2011 – six long years ago.
Although the design contract was let in 2013, the project was not bid until 2015 when the low bid came in 22% higher than anticipated. The construction contract was awarded anyway. With numerous ancillary "management" contracts, the project budget had grown to $4,000,000. By 2017 that figure had ballooned to an astonishing $4,600,000.
And yet construction didn't start until February, 2016 and when it did it was only for some minor ADA toilet room modifications adjacent to the AMTRAK ticket office.
You can see in the project billing submitted by Woodcliff Corporation, the contractor, a few items related to bonds, mobilization and the bathroom work in February 2016 – a year after the contract bid. Nothing was billed against the elevator items at all, except for crediting the structural steel shop drawings for $55,000. Over 14 months later the structural steel has not been erected. In fact, the foundations for the steel structure haven't even been built, as the site sits empty with minor demolition having taken place and some lighting conduit rerouted.
If any delay claims have been submitted by Woodcliff, those documents have not been shared, although delay claims are certainly coming, and escalation costs are already starting to accrue, although we don't know how much because the costs were intentionally lumped together with  other completely unrelated items in the March 2017 staff report.
As I noted in an earlier post the cause of all these delays is not known by the public because the Public Works staff doesn't want the public to know that things have obviously gone wrong, very wrong; and, that the inexplicable and unexplained delays have finally cost the taxpayers of Fullerton directly. The money is no longer free.
— Fullerton Engineer