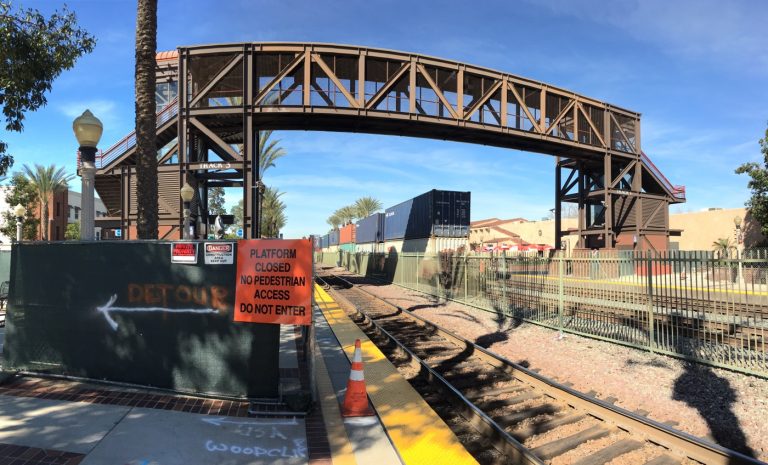 Two years ago FFFF ran a series of posts based on the observations of "Fullerton Engineer" about the ludicrous elevators addition to the existing bridge at the Depot. Nobody wanted this project except for city staff and only because the dime was somebody else's. And so a strange bureaucratic odyssey began with fits and starts of activity to waste $4,000,000 of transit money doled out by distant agencies. Then in 2017 the monster was shocked back to life with an infusion of $600,000 of Fullerton's own cash. Ouch. Let's let our Friend, Fullerton Engineer take it from here:
It appears as if the depot elevator project is grinding to a conclusion: the elevator foundations and steel are finally done and the traction elevators are almost complete. Are congratulations in order? Not quite, although I suspect there will be a victory celebration and ribbon cutting and back-pats all around when the City Council takes its first expensive elevator ride.
A construction sequence that should have taken perhaps seven months has dragged on for two years. That's right – two years. No one in charge seems to have offered any explanation, probably because no one in authority has ever asked for any. As I noted in the spring of 2017, the request for more money was shrouded in double talk and obscurantism. Somebody was hiding something.
Over the past two years as I have driven by the site it was more likely that I saw no one working as when I did. So what were all those people who were being paid, and well paid, to oversee this fiasco doing? Who knows? Have delay claim change orders ever been processed? Have they been rejected? Is a lawsuit coming or is it just going to end in a feeding frenzy on a complicit public agency? PRA requests may shed light on this disaster, if in fact they are not ignored by the city's lawyer.
Don Hoppe, our former City Engineer has disappeared into a well-pensioned retirement. His replacement, a professionally unqualified bureaucrat will take no heat for this embarrassment. It's no-fault government  where the taxpayer foots the bill.
— The Fullerton Engineer