Two More "Aliens" in the FPD?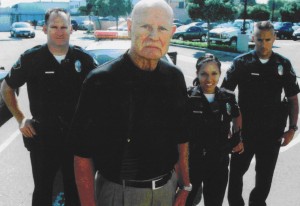 Former Fullerton Police Chief and current council recall target "Patdown" Pat McKinley once likened cops Manny Ramos and Jat Cicinelli to "aliens," meaning, presumably, that the only plausible explanation for bad cops on his force must be a visit from extraterrestrial travelers.
Of course the litany of bad cops in the FPD has now gotten so long that you really have to wonder if McPension ever hired any regular human beings at all.
And now some more potential bad PR for the FPD – an e-mail we received about two more cops who ran into difficulties in 2009, and whose problems may have been swept under the proverbial rug:
Privacy: You may publish this, but protect my identity
Subject: bad cops
fpd officer christopher robert wren, date of arrest 01-30-2009, assault of a minor. case # MCH 900309 ..SH 200900572 .. but he took a deal…got probation and k9 officer………still on patrol….
officer gary potts, dui arrest date 07-17-2009. orange county case # 09cm08352… still on patrol and a corporal………
Christopher Wren, of course, was the second cop originally named in the lawsuit against the sex perv Albert "Alby Al" Rincon. His name was dropped later, but he must have some interesting stories to tell about his running buddy, Rincon. "Assault of a minor"? I wonder what that means.
The name Gary Potts is new; DUI? No bueno, if that's true.
Naturally we'll be looking into the these cases, particularly that of Mr. Wren to see if there's any there, there.