Saturday: Protest At The Police Station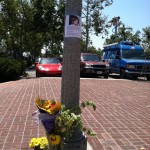 FFFF Friend Andy Anderson has organized a second protest that's scheduled for tomorrow morning at 9:00 am to 1:00 pm on the corner of Highland and Commonwealth in Fullerton.
If you can, bring a poster board and make a sign on site. This is your opportunity to send your own personal message to the FPD letting them know what you think of the brutal killing of a local homeless man named Kelly Thomas.
There is a Facebook page to help organize the event.