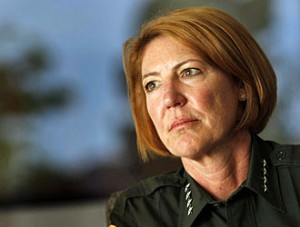 I keep hearing persistent rumors that the Fullerton City Manager Joe Felz has had discussions with high level County officials about the possibility of abolishing the Fullerton Police Department and replacing it with the Orange County Sheriff's Department.
Apparently the hook is not just the recent revelations of FPD misconduct, perjury, cover-up, crimes high and low, a spokesman caught blatantly lying, and the attendant PR curse that the department has visited upon itself. There is an issue of huge cost savings. And I mean huge.
While the prospect of getting honest, competent and respectful police services from the Sheriff's Department is probably only marginally more likely than with the FPD (and there's no way in the world it could be worse), extrapolating from current costs in contracted cities, using the OCSD could save the taxpayers of Fullerton as much as $13,000,000, per year from the FPDs bloated budget of $37,000,000.
That's a whopping 37%, and $13,000,000 could go to a lot of things Fullertonians hold near and dear.
In this era of government fiscal constraint brought about in large measure by irresponsible decisions by dimwits like Don Bankhead, Dick Jones and PatMcKinley, to hand out exorbitant pay and benefits to "public safety" employees, everything should be on the table.