Meanies Hit Thompson with Tiny Signs
Over the weekend these little signs began appearing on a few intersections in Fullerton.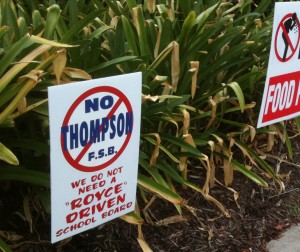 The print is so small that you'll have to pull over and get out of your car to read it. This one warns of Chris Thompson's endorsement by U.S. Congressman Ed Royce, which is pretty funny considering it's the same message that Thompson is trying to get out himself. I'm sure he appreciates the help, but next time please make them big enough to actually read.
Other equally odd versions of the sign say "bad for our children, bad for our teachers" and "Bushala puppet." Thompson is an advocate for promoting good teachers and identifying underperforming ones, which I guess would make him "bad for BAD teachers," but arguably good for children.
So if Thompson is good for good teachers and bad for bad teachers, who do you think would put up this sign?