Fullerton Transit Center: Amerige Court on Steroids?
We just received the following notice from Friends for a Livable Fullerton:
The Fullerton Transportation Center "Specific Plan" is an approximately 40 acre project at the southeast corner of Harbor and Commonwealth. Built over the next few decades, it will take up over 6 full city blocks at one of our prime city intersections and will have a huge effect on our historic downtown and on alternative transportation for years to come. Maximum buildout would be about 2 dozen (!) 3- to 9-story buildings:
1,560 multi-family residential units
100,000 square feet of retail
100,000 sf office space
120-room, 120,000 sf hotel
Note the density and scale compared to the surrounding area: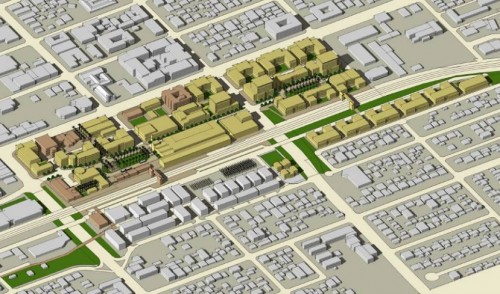 While the plan doesn't yet have specific building designs, the approval of this Plan and its 2,290 EIR will allow it to proceed.
City Admits Many Unavoidable Impacts
An unusual aspect of this plan is the large number of City–admitted significant environmental impacts the City Council will be called upon to "override" due to the project benefits outweighing the impacts:
Air quality
Noise
Substantial increase in population and housing growth not anticipated for the project area
Traffic: Significant impacts at Orangethorpe Ave. and Lemon St. (It is notable that an EIR ever determines traffic impacts that can't be mitigated.)
Plan Front-Loaded with Approvals; Future Public Oversight Minimal
Future public input on many of the design and use issues could be minimal, due to approval of the following concepts. Because most of this project can't be thoroughly reviewed at a future time, it's imperative that it receives more careful scrutiny now.
Form-Based Code Most development concepts are pre-approved.
Program EIR Specific buildings have not been designed or proposed at this stage. This document, a Program EIR as opposed to a Project EIR, serves almost as a blanket EIR, with no need to do specific reviews of future projects that don't exceed footprint and impact thresholds.
Town Architect A Town Architect, contracted by the City, would provide design review opinions rather than going through the RDRC or Planning Commission. It's unclear how much oversight concerned citizens would have on future decisions on sensitivity to existing historic structures.
Redevelopment Agency An important layer of review was removed when the citizens' oversight committee for the Redevelopment Agency was disbanded a few years ago.
Other Major Issues
Fiscal impact to the City (only the City Council will discuss this, not Planning Commission)
Pedestrian, bike, and disabled access to the neighborhood south of the project is critical. If this project doesn't solve this problem, it will be exacerbated by this development and never solved.
Several buildings are not being designated historic which merit concern – the Burlington Northern Santa Fe rail building that says "Fullerton" on its roof, the smaller buildings (Slide Bar, Henry Jones Insurance) on the historic 100 W. Commonwealth block, Hawaiian Punch building, etc. The 3- to 9-story buildings may dwarf the historic buildings in the area.
Plans to move the current bus depot limit the ability to expand transit in the future, and cause extra complications and expense for OCTA bus service. The plans for moving the spacious, naturally lit, landscaped facility currently in the "heart of the action" to a hidden, claustrophobic ground floor of a new 5-story parking garage will degrade the perception of public transit, which is particularly ironic, since the project touts itself as "transit-oriented". Transit advocates have suggested an outdoor, but shelter-protected, linear or L-shaped facility, but these plans were rejected in order to provide more land for development.
The Planning Comission (with Doug Chaffee recusing, and Scott Lansburg absent) voted unanimously to recommend that the City Council approve this project at their October 19th meeting. Many more people attended this meeting (approx. 30) than the previous one (7) since City staff sent out more announcements. Several local property owners were in attendance and were angry that they were being forced into this re-zoning. Many people were surprised when the developers showed slides of how massive the new construction would appear. We are asking the City to make these photos available so people can visualize the impacts.
The Fullerton Transportation Center "Specific Plan" – 40 acres, over 6 full city blocks at one of our prime city intersections. While this is primarily a zoning document without specific building designs, its approval will allow it to proceed. Maximum buildout would be about 2 dozen (!) 3- to 9-story buildings.
Technical Info and Conceptual Drawings – View the plan details
Please plan on attending on the 19th!
–Friends for a Livable Fullerton