Nickle and Dime the Public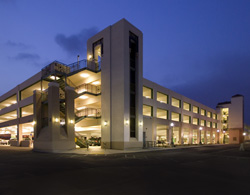 Here's an e-mail we received from a Sunny Hills High school student that raises some good questions about the lack of communication between High School District and the NOCCCD and why FJC requires that people pay to park when nobody is using the facility.
This past Friday night, I went to the Sunny Hills vs. Fullerton H.S. School football game at Fullerton High which happens to be right across the street from Fullerton Junior College which happens to have a parking structure right across the street from the high school's stadium.  I parked in that parking structure and ended up getting a parking ticket for not having a Fullerton College parking permit.  I did not think that at this time (7:00-9:00pm) on a Friday night anyone would be checking for the parking permit because of the event that was going on at the stadium.  There were many cars parked in the structure who were apparently also going to the game that did not have a parking permits.  The officer that gave me the ticket was named Officer Gonzalez, I believe.
Is Fullerton College really in that much of a budget crunch that they need to go out and give a bunch of high school students parking tickets to collect twenty seven dollars?  If people didn't park in this structure we would be parking in the residential areas to the north of the stadium which would bother the residents that live near the stadium.  The group that issued the ticket is discouraging students from going to high school promoted events. Can't someone from the High School District and the College figure out a responsible plan that would assure people can go to the football stadium, watch a football game and not get a parking ticket?
Colin Lamontagne