On the Agenda: November 3rd, 2009
This might become a regular feature: an FFFF reader just sent in a quick summary of interesting items up for discussion/vote at tonight's Fullerton City Council meeting.
If there is anything else that needs to be brought up before tonight's meeting, this is place to discuss it.
——————–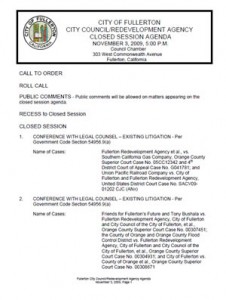 Nothing too exciting for the open session.
FFFF and Tony make the #2 Closed Session Agenda for tomorrow night's meeting. Oh, to be a fly on that wall!
Heads up on Item #15 of the Open Session Agenda. Is management taking a pay cut? Great idea, take one for the team!
Item #16 looks like a ban on cell phone use. This matter concerns the use of cell phones and other electronic communication devices by Council Members and staff during Council meetings. One can only wonder what would be so important that it needed immediate attention by staff and council. Maybe it's to deter all out secret bidding/bribing? Who knows! Sounds like a good idea to me.
Aside from the MILLIONS of dollars being allocated and reallocated into various projects, it looks like a quiet night…
Respectfully Submitted,
Christian