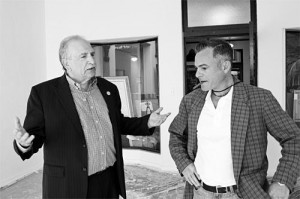 When he graduated from journalism school, Norberto Santa, formerly of the Orange County Register and more recently writer for the comically self-described "non-profit" Voice of OC, likely told his friends and family how he was going to change the world by exposing, well, things, that needed exposing.
How sad he must be, now that he is nothing but a tool for his union paymaster, the OCEA union, at those family reunions when he has to report that he is nothing but a second-hand tool for the likes of Hide and Seek Harry Sidhu, whose carpetbagging and perjury have gone mysteriously unmentioned by the intrepid "journalists" at the Voice of OCEA.
And come to think about it, they have never written a single word about the string of malfeasance perpetrated by by County Clerk Tom Daly: things like blowing 2.1 million on a worthless building; hiring a campaign contributor to study a Hall of Fame Museum; handing out jobs to the relatives of other contributors; blowing $120,000 to apply for grants that went nowhere.
Poor Norberto! If only he applied for that OCEA spokeshole job before former Register colleague Jennifer Muir got to it he wouldn't even have to pretend to be objective!