Posts Tagged Marijuana
Here in Fullerton, where our downtown is essentially wall-to-wall bars with hundreds of DUIs a year as a result, we don't take alcoholism or drinking and driving very seriously.
Sure we hand out awards to the officers with the most DUI arrests but when it comes to the over-serving or other bad behaviors by bars we don't just turn a blind eye, as a city we change the laws on the books to make it easier for those bad bars to operate. Hell, Jennifer Fitzgerald is so blind on the issue that she's on record blaming "pre-gaming" in the parking structures for the problems.
You can get drunk and kill a 6yo in her front yard and Fullerton's Staff and Council will yawn at the DUI culture they've created. That's not fair – they won't just yawn. They'll actively spend the next year making the DUI factory in downtown worse.
But weed? Now that's a problem that Fullerton is willing to tackle.
Fullerton City Manager Domer and Chief of Police Dunn want help from the State of California to crack down on "black market marijuana retailers" despite the city council steadfastly refusing to allow legal dispensaries to exist in the city.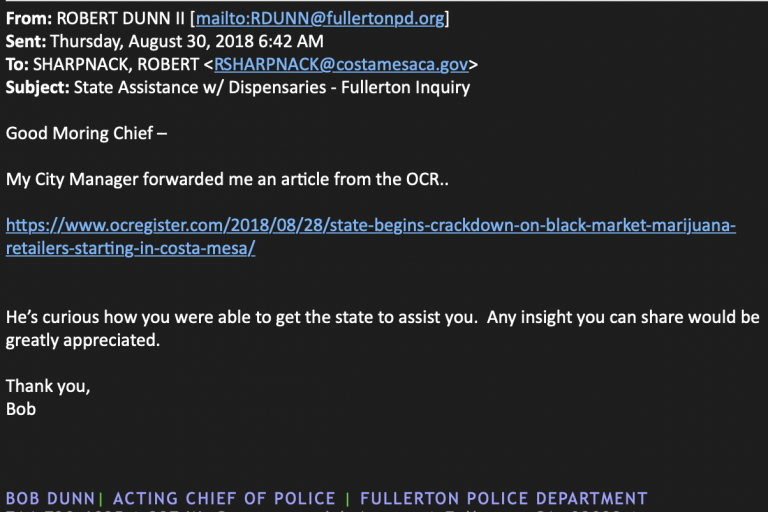 My City Manager forwarded me an article from the OCR..

https://www.ocregister.com/2018/08/28/state-begins-crackdown-on-black-market-marijuana-retailers-starting-in-costa-mesa/

He's curious how you were able to get the state to assist you.  Any insight you can share would be greatly appreciated.
In 2016 the voters of CA approved Prop 64 for legal marijuana with 57% of the vote, even 52% of OC voters voted yes on Prop 64. Even Fullerton was pro-weed with a 51% Yes vote.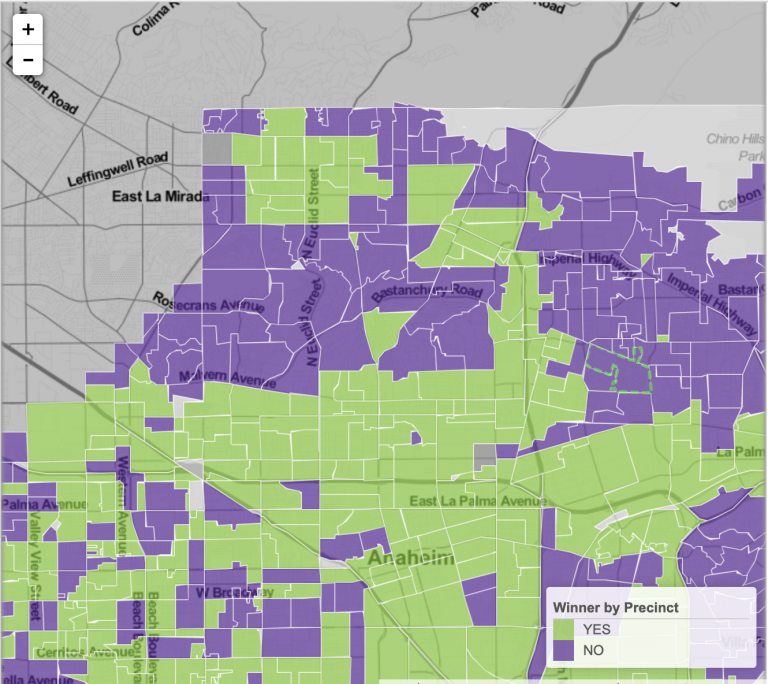 Despite the vote, the Fullerton City Council has refused to allow a single dispensary anywhere in Fullerton. They won't zone any industrial or commercial areas for legal weed leaving sellers in non-compliance.
You can run an illegal venue at the airport, refuse to put in mandated fire sprinklers in the largest nightclub in downtown, run a bar without the legal permits and so much more and the city is more than happy to let you get away with it. But weed? Oh man, that's a sin too far and a sin that might cut into the profit margins of the bustling bar and fight scene.
This is substantially no different than Measure W, where 60% of voters voted against the development of Coyote Hills and the council is going to do it anyways. Welcome to Fullerton where your vote counts as long as we like the way you vote.
Posted by Mr. Peabody in Ahmad Zahra, Bad Cops, Big Brother, Chronic Failure, Dead heads, Gin Flurry, I Aint a Swallerin That, Jan Flory, Law N Disorder, Marijuana, Our Town, Setting The Bar Low on May 13, 2019
During a quick stop at the on-line Fullerton Observer I read an article by Jane Rands about a dope forum held by the folks at NUFF – an organization of mostly geriatric liberals whose mission seems to be to promote safely pro-government candidates and causes. Aha, thought I, perhaps someone will stand up for the rights of the people of California who have voted twice for marijuana legalization and twice have been thwarted, whenever possible, by the Drug Warrior/Prison Industrial Complex.
The three members of a panel, selected by who knows who, were Ahmad Zahra, Temp Fullerton Top Cop Bob Dunn, and some dude named Richard Ham about whom I know nothing.
Whatever hopes I had about this get together were quickly dashed reading the article. Smilin' Zahra, it seems, once got a prescription for medical weed for his fibromyalgia, but was too chicken to try it. Scary stuff. Ever the wordy equivocator, Zahra seemed to be all for lots of regulation because gosh darn it, the kids have already been exposed to cannabis by illicit shops popping up next to schools.
The large and seemingly self-satisfied Chief Dunn, who used to be a spokeshole for the notorious Anaheim Police Department, gave the usual cop-blather about the evils of drugs (kiddies were getting into mom and dad's digestible stash!) and reminding Fullerton's tremulous seniors that drug driving is a crime. In typical police fashion he suggested that a confused public causes his boys "a lot of effort with little return." Same ol' bullshit the cops have been peddling for 60 years. In a grand gesture of philanthropy, however, he did let it be known that he and his posse intended to follow the law. Gee thanks, Bob.
The third member of the Dope Troika was Mr. Ham, a Korean business guy in some sort of hotel business. Good thing he was there, because somebody was able to point out the all the flaws in the present system where cities are allowed to opt-out of legalization and the ultimate consequences of California ridiculous 2016 referendum: the maintenance of an illegal, underground system of cultivation and distribution.
Zahra proclaimed the meeting a "good start" begging the question of why in the world anyone needs to start considering these issues. Why there is any confusion about marijuana in this state after over twenty years of legalization? It's because the cops and the cowardly politicians don't want clarity, they don't want freedom and they don't want to be deprived of the seizure asset income they get from the War on Drugs.
Mr. Zahra did accomplish one thing. Because of the presence of Mayor Jesus and Jan Flory he warned of the dangers of a Brown Act violation, chasing our stalwart mayor out of the room.