Here in Fullerton, where our downtown is essentially wall-to-wall bars with hundreds of DUIs a year as a result, we don't take alcoholism or drinking and driving very seriously.
Sure we hand out awards to the officers with the most DUI arrests but when it comes to the over-serving or other bad behaviors by bars we don't just turn a blind eye, as a city we change the laws on the books to make it easier for those bad bars to operate. Hell, Jennifer Fitzgerald is so blind on the issue that she's on record blaming "pre-gaming" in the parking structures for the problems.
You can get drunk and kill a 6yo in her front yard and Fullerton's Staff and Council will yawn at the DUI culture they've created. That's not fair – they won't just yawn. They'll actively spend the next year making the DUI factory in downtown worse.
But weed? Now that's a problem that Fullerton is willing to tackle.
Fullerton City Manager Domer and Chief of Police Dunn want help from the State of California to crack down on "black market marijuana retailers" despite the city council steadfastly refusing to allow legal dispensaries to exist in the city.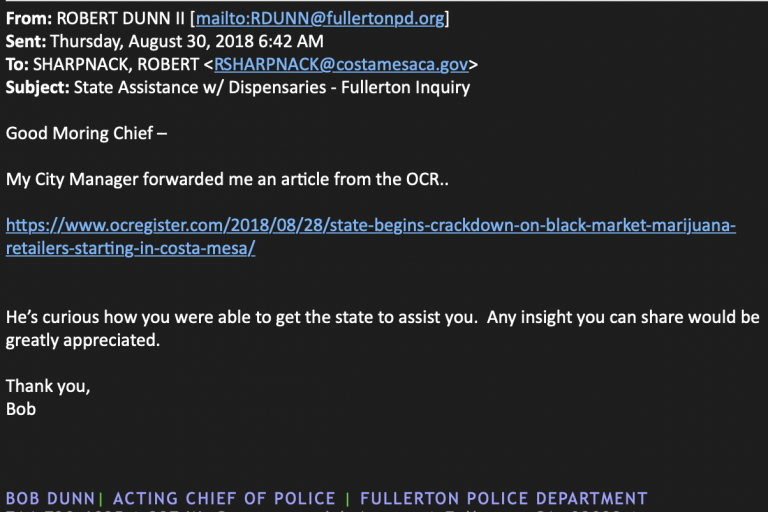 My City Manager forwarded me an article from the OCR..

https://www.ocregister.com/2018/08/28/state-begins-crackdown-on-black-market-marijuana-retailers-starting-in-costa-mesa/

He's curious how you were able to get the state to assist you.  Any insight you can share would be greatly appreciated.
In 2016 the voters of CA approved Prop 64 for legal marijuana with 57% of the vote, even 52% of OC voters voted yes on Prop 64. Even Fullerton was pro-weed with a 51% Yes vote.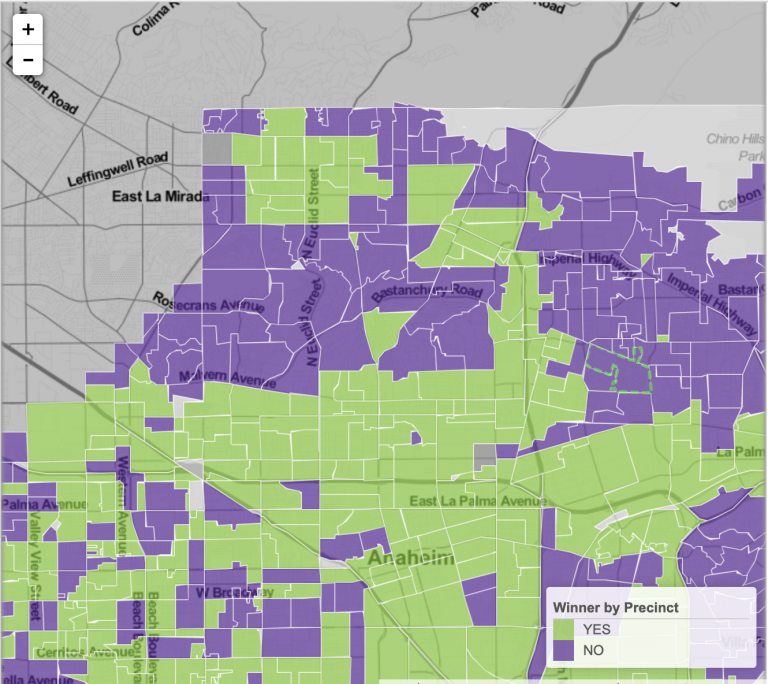 Despite the vote, the Fullerton City Council has refused to allow a single dispensary anywhere in Fullerton. They won't zone any industrial or commercial areas for legal weed leaving sellers in non-compliance.
You can run an illegal venue at the airport, refuse to put in mandated fire sprinklers in the largest nightclub in downtown, run a bar without the legal permits and so much more and the city is more than happy to let you get away with it. But weed? Oh man, that's a sin too far and a sin that might cut into the profit margins of the bustling bar and fight scene.
This is substantially no different than Measure W, where 60% of voters voted against the development of Coyote Hills and the council is going to do it anyways. Welcome to Fullerton where your vote counts as long as we like the way you vote.