A while back we made reference in a post to a type of architecture called "HAVE FUN DAMMIT Post Modernism." See comment #13
Several of you Dedicated Friends had questions about our nomenclature, and rather than inch out any farther onto the thin ice of architectural taxonomy, we have decided to turn the task over to an expert. And so, once again, we rely upon the kind offices of Dr. Ralph E. Haldemann, Professor of Art History (Emeritus) at Otterbein College, Ohio, our Adjunct Arts and Architecture Editor.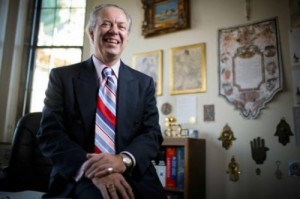 Writes Dr. Haldemann:
You have astutely identified a stylistic trend in government subsidized commercial architecture. The outward trappings are meant to induce retail sales through the medium of bright colors, unexpected or weird angles, ostensibly playful and upbeat features and signage; all in an effort to promote a festive, even amusement park-like atmosphere. This mood of jollity is meant to help pry loose disposable income from the local proletarians and thus support a city's sales tax base. Some of the elements are congruent with the coeval deconstructivism of Post-modern architecture, although any disorientation produced by the former is generally intended to foster a suspension in fiscal responsibility.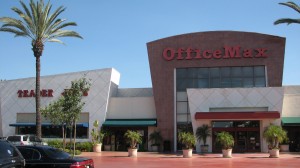 This theme sprang up in the 1980s as urban renewal moved into the suburbs; serious students of architectural history have labeled the approach both "Clown" and "Circus" architecture, not so much in disparagement, but as an indicator of a hoped-for carnival mood on the part of the consumer by the financing public agency.
Since the have-fun-at-all-cost approach necessarily requires a "hard sell" many have recognized a cruel irony in the attempt to force feed fun, especially in economically distressed areas.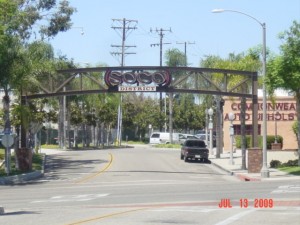 Since many of these structures and complexes have predictably refused to age with any sort of dignity, critics find solace with the prospect that these buildings will soon be "redeveloped" by the same suburban renewal urges that created them in the first place.
Finally, I note that many of the themes of this style have sloshed over in to other non-commercial municipal enterprises with fairly appalling consequences.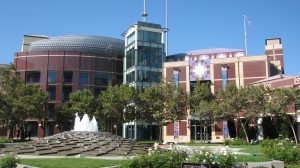 Thanks, Dr. Haldemann, for another lucid and enlightening exposition. Your FFFF check is in the mail, but please don't cash it 'til the end of the month.