What Is Exaggerated Modern?
UPDATE: In our carelessness we omitted citation for the image of "Donald's Serva-teria. We got it here, and apologize for the oversight.
– Joe Sipowicz
In our previous post here we identified the buildings at the Hope University campus as "Exaggerated Modern." Being unusually perspicacious, we have anticipated that some of our Friends will want an explanation of what this architectural term means, and that some even may suspect that we just make this stuff up for fun.
And so we have called upon the good offices of Dr. Ralph E. Haldemann, Art History Professor (Emeritus) at Otterbein College, Ohio – our adjunct Arts and Architecture editor – to expound upon the term he so helpfully provided for our prior post. We reproduce his scholarly explanation below:
The term "exaggerated modern" simply means a style that uses the materials and structural emphasis of Modern architecture, with exaggerated features: soaring, cantilevered roofs, expansive and often canted storefronts, and the deployment of exposed structural elements like precast concrete, steel trusses, etc., to emphasize engineering virtuosity. The style is resolutely exuberant, commercial, and auto-oriented. The style dominated American roadside architecture between 1955 and 1965, and even made inroads into high-style architectural efforts such as the buildings at Hope U.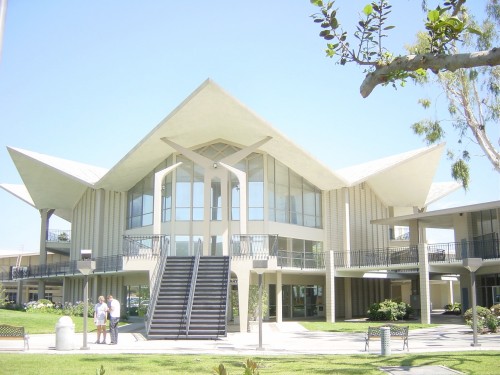 Exaggerated Modern ought not to be confused with the term "googie"  – an applique design phenomenon that in some ways parallels Exaggerated Modern. Googie themes tend to be kitschy renditions of popular 1950s scientific imagery – atomic, astronomic, and zoological (amoeboid shapes); or fun arrangements of geometric shapes, patterns, and colors, etc. These energetic and playful themes will very likely be housed in structures exhibiting Exaggerated Modern attributes, or on attached or adjacent signage; but the two notions should not be conflated.
Professor Chester H. Liebs has aptly described the outlines and history of Exaggerated Modern in his magisterial book From Main Street to Miracle Mile, Little Brown & Co., Boston, 1985.  cf. pages 59-64. click here to see
Thanks, Dr. Haldemann. The check is in the mail!