Ahmad Zahra Charged with Battery & Vandalism
Fullerton Council member and wannabe Mayor Pro-Tem Ahmad Zahra has been charged with battery & vandalism here in Fullerton.
You can find a copy of the complaint as filed by the Orange County District Attorney [HERE]. The counts are as follows (emphasis in original):
"Count 1: On or about September 20, 2020, in violation of Sections 594(a) / (b) (2) (A) of the Penal Code (VANDALISM UNDER $400), a MISDEMEANOR, AHMAD ZAHRA did maliciously and unlawfully deface with graffiti and other inscribed material, damage, and destroy CELL PHONE, real and personal property belonging to MONICA F, in an amount less than four hundred dollars ($400).

"COUNT 2: On or about September 20, 2020, in violation of Section 242 of the Penal Code, (BATTERY), a MISDEMEANOR, AHMAD ZAHRA, did willfully and unlawfully use force and violence upon the person of MONICA F."
The incidents appear to have taken place on 20 September 2020 with nary a word from anybody at City Hall to the public. It looks like Fullerton is once again up to their old Joe Felz & Chief Hendricks tricks.
Before anybody question is there is perhaps ANOTHER Ahmad Zahra being charged, here's the incident log from Fullerton PD (with Ahmad's address redacted by me):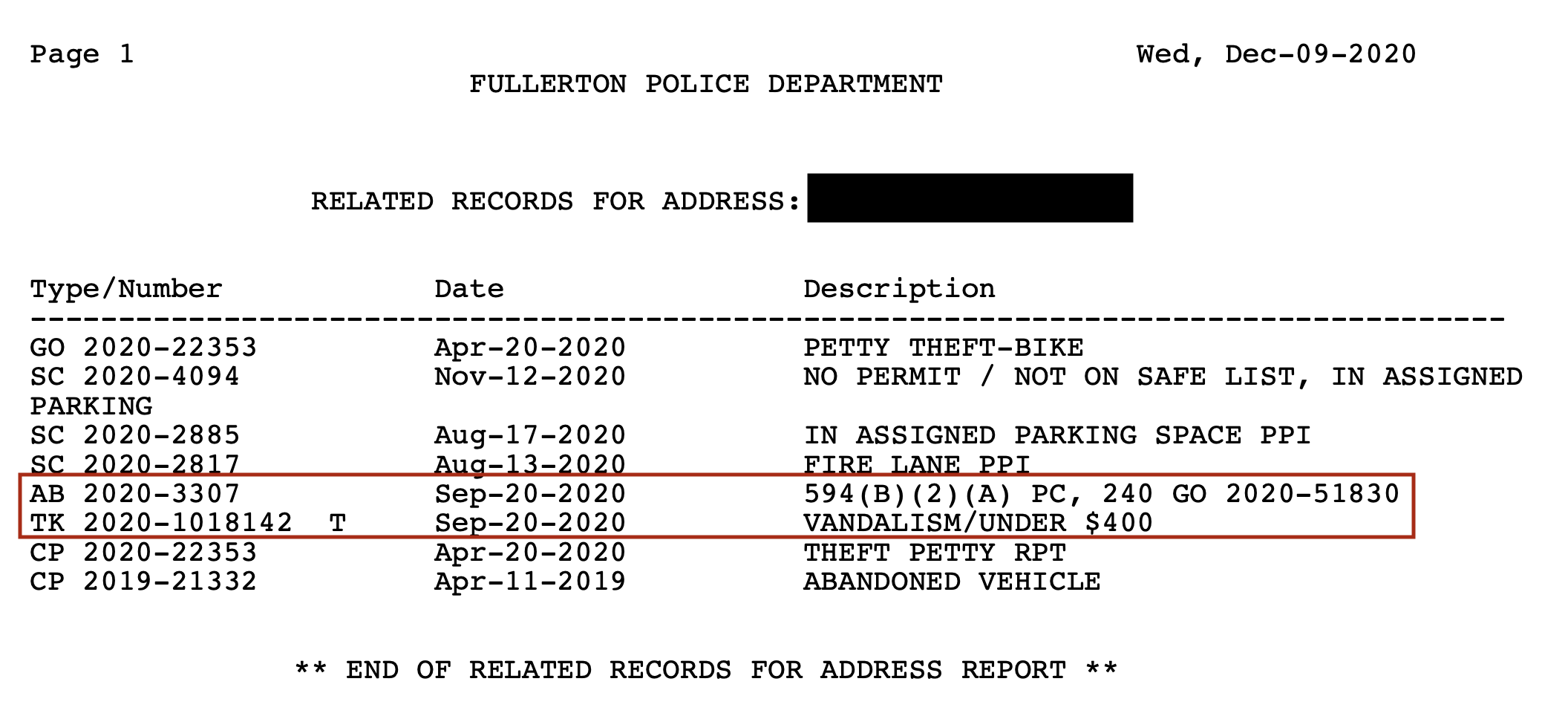 Here is the case detail should you want to confirm it yourself with an OC Courts Criminal Case search:
He was arrested for assault but charged with battery as seen in the arrest report versus the criminal complaint filed by the DA.
The arresting officer put "240" which is:
240. An assault is an unlawful attempt, coupled with a present ability, to commit a violent injury on the person of another.
The Courts have him charged with "242" which is:
242. A battery is any willful and unlawful use of force or violence upon the person of another.
When Zahra was whining and preening that he deserved to be Mayor Pro-Tem he was lying by omission and not telling you that he was, AT THAT VERY MOMENT, facing charges for battery and ticketed with vandalism in what looks like a possible domestic violence crime.
Seems that Zahra was sanctimoniously complaining about what he himself called a "ceremonial" position all the while hoping you wouldn't find out about his apparent criminal conduct.
We'll continue to follow this story as it develops. If nothing else it should be interesting to see which OC Dems run to Zahra's defense or if they'll stay quiet while hoping, just like with everything else that smears their team, if they ignore it long enough maybe it will just go away and inconvenient victims, including #YesAllWomen, be damned.
If we're lucky we might get a patented CA (D) "I made a bad mistake, I should have stood up and … drove back to my house" or maybe the "I was set up" defense. Who knows, maybe those are only reserved for the higher-ups in the party.