Embrace DUIs or Move to Podunk
Last night the Planning Commission voted to loosen the rules on bars while promising, yet again, that the city will hold bad actors in our downtown accountable.
They made the same empty promises staff, Planning Commission and Council have been giving the people of Fullerton for well over a decade despite any substantial actions. They can't even be bothered to close businesses without permits but hey, trust them this time because this time they mean it. Really.
During public comments Joe Florentine suggested if you don't like the DUI culture that you move to Podunk.
This actually happened.
The guy who stole a sidewalk thinks the entire city belongs to him and his beer shilling compatriots. He and other bar owners in attendance also tried to blame "pre-gaming" and 7-11 for all of the drunks sent out onto our decrepit roads at 2am.
Not one member of the Planning Commission asked about negative impacts, what was already being done, why nobody is ever shut down or brought before them and not one of them bothered to challenge staff or the owners on why they all supported alleged "penalties". These people are all shameless and useless.
But Mr. Florentine put the idea out there that you either accept his vision of Fullerton or leave so I present for your consideration the vision that these guys have as this is what they support, want and endorse year in and year out.
Here is a map of the DUIs in Fullerton in 2018. Google Maps wouldn't let us show duplicates so if 5 DUIs happened at the same spot there is only one pin.
Here's just Downtown for 2018: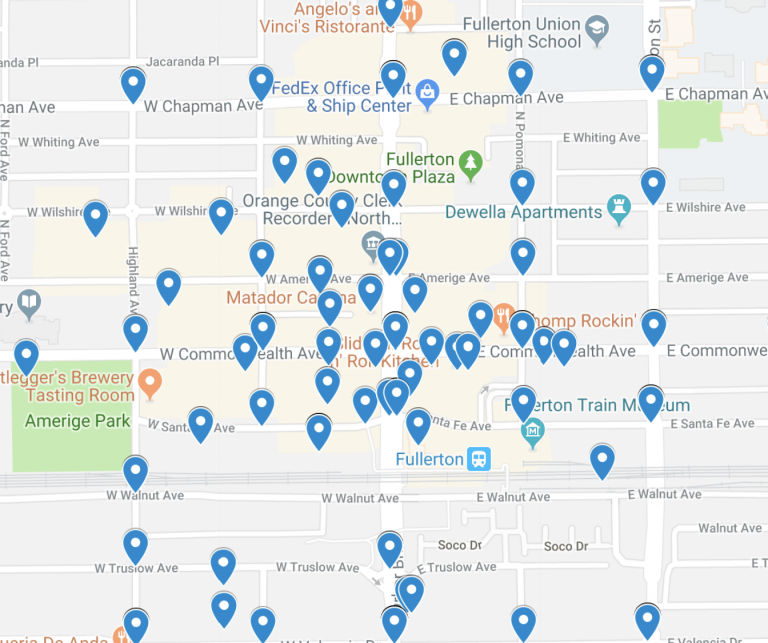 There were 636 DUIs in Fullerton in 2017, 633 in 2018 and with 80 DUIs so far this year the city is on track to keep up with this yearly average.
Nobody last night seemed to care about the carnage, mayhem or dangers on our roads so long as it makes the right businesses a profit (while driving other businesses out). What's sad is that this idea of a Bar-Only Downtown is ruining a part of town many of us love.
But hey, if you don't like having 1.7 DUIs a day in Fullerton (and that's who is caught mind you) then just move to Podunk. After all, according to Joe Florentine this is a college town and we need to focus on serving students (who for the first three years of college are too young to drink mind you).
Maybe when a DUI hits the stolen sidewalk on Harbor, instead of innocent businesses like the Ophthalmologist on Orangethorpe, Mr. Florentine will change his tune on the unaccountable behavior he continues to support.
Until then except more the same and be happy about it or do something to change the focus of our city council. Or hey – maybe just move to Podunk.