We've received, via a Public Records Request, some of Community Development Director Ted White's text messages with downtown bar owner Joe Florentine. It looks like Mr. White is working for Florentine which explains a lot: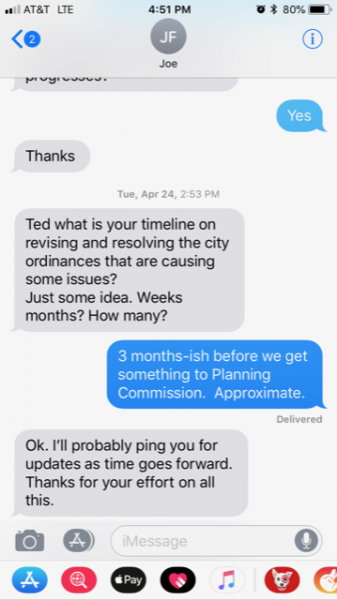 To clear this up, those "issues" that Mr. Florentine is talking about include all of his violations of the municipal code and his Conditional Use Permit – specifically his illegal refusal to install fire sprinklers.
Florentine is in gross violation and Ted White is pushing a big change to the municipal code through council in order to facilitate Florentine's bad behavior.
While Mr. White likes to talk about how hard his job is, how impossible enforcement is and how outdated it is to look at "lumens" regarding lighting – he doesn't admit that fire safety isn't on his list of priorities – nor is actually doing his job.
Florentine's properties on the corner of Harbor and Commonwealth, the largest bar / nightclub in all of Downtown Fullerton, as far as we can tell, is the ONLY business given a pass on fire and life safety issues.
We also have it on good authority that Mr. White tried to illegally INCREASE the occupancy at Florentine's properties, in violation of the law, while ignoring the fire sprinkler issue that has been ignored by staff for 10+ years. Why? Why potentially put more people at risk?
And Mr. White isn't alone in his belief that one man is above the rules and laws in Fullerton.
Every single year the Fullerton Police Chief, currently Robert Dunn, issues Florentine a Live Entertainment Permit threatening to enforce the applicable laws/permits. And every year the Chief does nothing but wield his rubber stamp for downtown law breakers. This is worse than the old joke of the UN saying "Stop! Or we'll yell 'Stop!' again!" because our Chief can't even be bothered to use the "S" word. (more…)