Quirk-Silva & Newman Throw Taxpayers Under Brown's Train
Our local statewide electeds, Josh Newman (D. 29th State Senate District) & Sharon Quirk-Silva (D. Assembly District 65), have opted to vote to increase vehicle registration fees, gas taxes and add a new tax on zero emission cars in order to fix the budget that their own party is too incompetent to balance.
The vote was on California Senate Bill 1 (SB1) and both Newman and Quirk-Silva voted "Aye" on 06 April 2017.
I'm especially annoyed with Josh Newman because I thought, at the very least, that he wasn't totally full of it. That he had a solid first name helped some during the election as did the GOP running their own brand of horribleness. Newman seemed like a reasonable guy who wouldn't buckle to the whims of his party's thievery.
Newman's website, in the "Why Newman" section, states the following:
It's time to push back against the special interests and political careerists in Sacramento. As your State Senator, my priorities will be your priorities: creating opportunity, improving schools, balancing budgets, and solving problems.
I didn't read that as "I'll tax you into oblivion and work with the political careerists to give them their gas and vehicles taxes that they've been clamoring for for far too long". True to that (D) behind his name Newman played the standard tax'em-into-oblivion game that his chosen party oh so loves.
I voted for Josh Newman but bear suit be damned I will not make that mistake again.Sharon Quirk-Silva got an "F" from the Howard Jarvis Taxpayers Association in 2013 & a "D" in 2014 so her vote we all should have seen coming.
Here's what Quirk-Silva says on her website under "Priorities":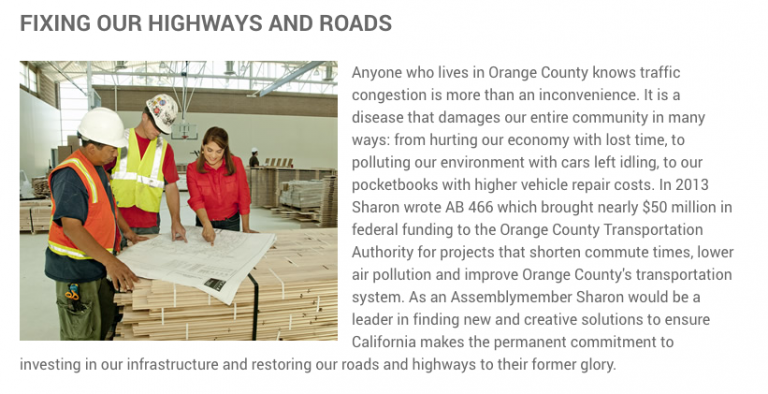 As an Assemblymember Sharon would be a leader in finding new and creative solutions to ensure California makes the permanent commitment to investing in our infrastructure and restoring our roads and highways to their former glory.
I'm not sure how the same vehicle registration that helped get Gray Davis booted compounded with higher gas taxes are "new and creative solutions". Those read to me as "same (D) policies that got us into this mess". I suppose one could argue that taxing zero emission vehicles is new but I'm not giving credit for new and creative ways to pull the end up with the same result of over-taxing the citizenry.
That her husband refuses to even consider cutting any government spending until a new City Manager is hired in Fullerton should tell you all that you need to know about the Quirk-Silvas regarding taxing and spending. Woe be to the taxpayer as the Quirk-Silvas think they know how to spend your money better than you can manage.
So why do Newman and Quirk-Silva feel the need to bilk the taxpayers more in this already over-taxed state?
Simple – Governor Moonbeam wants more of your money and they're good party soldiers. This time he's going after your vehicle registration fees (up to tripling that yearly cost) and your wallet at the pump. Why? Because the Democratic party that controls this state lock, stock and barrel sucks at math and can't balance a budget. Oh, and the Republican Party forgot generations ago how to run an opposition party and offers voters nearly no alternatives.
These new taxes are estimated to bring in about $5 Billion/year for 10 years to "help fix the roads" which is utter bollocks. We already pay to fix the roads and that money is either diverted elsewhere, spent on transportation boondoggles or misspent by throwing it at horrible contracts that take way too long to complete. Like our local municipality we don't have any money because public safety, via CalPERS, eats all of our budgets and we can't afford to do much of anything outside of fund their ridiculous pensions.
If Brown needed $Billions$ more to help fix the roads he could have spiked that stupid Not Really High Speed Rail project that's already over budget. For reference that stupid project will run into the hundreds of billions of dollars to complete, if it gets completed, and will be subsidized forever and ever amen. Brown could kill that nightmare instead of simply stealing more from the citizenry. However, considering that the Not Really High Speed Rail project itself isn't funded means our local thieves electeds will be back soon to steal tax more of our money if they don't simply divert these current taxes to pay for the project.
To put the government stupidity here into context – The State Bureaucrats didn't anticipate the flurry of environmental objections to their Not Really High Speed Rail project. And I quote:
The effort to get through environmental reviews also has taken much longer than expected and is getting worse, according to the federal review.
They didn't anticipate environmental objections. In California. The stupidity is deafening but hey let's give these nitwits more of our money. Our local representatives clearly won't put up a fight for us.