A few months ago, I pointed out bogus signs at the train station which cited non-existent instances of the Fullerton Municipal Code.  Those signs were removed a short time later.
Here we have a similar sign posted at the Wilshire Avenue parking structure.
Fullerton does not have a "No Loitering" ordinance that could be used here.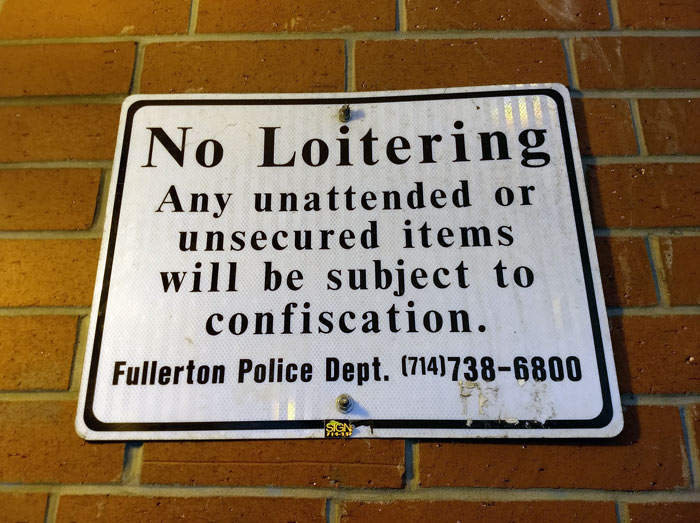 The second part, warning about confiscation of property, only comes up in Title 9, which covers parks — not parking structures, nor anywhere else in the City.
9.12.530   Enforcement — Seizure of property.
The Director, park attendants, parking control officers and police officers are authorized to seize, confiscate and hold for the City any property, thing or device in the park used in violation of this chapter.
(Ord. 1900 (part), 1973: prior 4320.9(3) — Ord. 999 § 1, 1959).
Nowhere in 9.12.530 does it address "unattended or unsecured" items.  Even if the City wanted to play word games, and say the parking structure is part of the park and museum immediately adjacent to it, the sign doesn't even agree with the code.  Perhaps that is why the sign makes no mention of the Fullerton Municipal Code — there's nothing to cite because somebody made it up.
So the next time City Hall tells you such and such is the "law" you should probably take that assurance with a grain of salt.