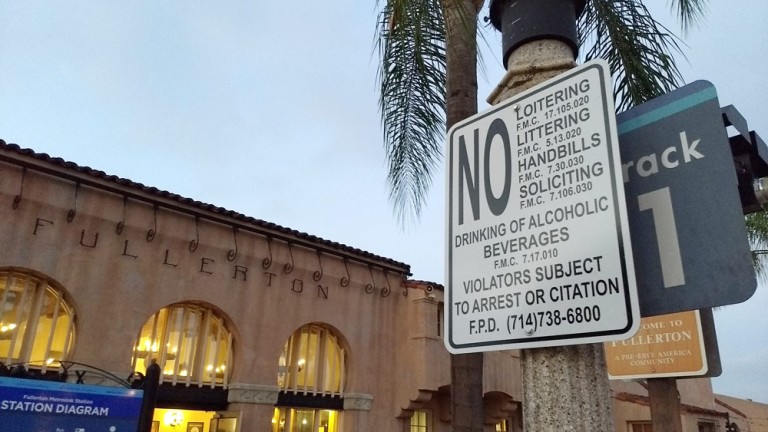 How well can you read?  Good enough?  Somebody at City Hall desperately needs your help.
These obnoxious signs were installed at the train station last week.  Not only are they ugly and obtrusive, parts of the text are a lie.  Apparently City staff expects nobody to double-check their work.
"NO Loitering" — Hello?  This is a train station where people are encouraged to loiter while waiting for their train.  What's worse is the code citation, FMC 17.105.020, is completely bogus because Title 17 doesn't exist in the municipal code.  The City doesn't even have a "no loitering" ordinance that would apply here.  Somebody made this up!
"NO Handbills" — They cite FMC 7.30.030.  Funny, the title of Chapter 7.30 clearly says this part applies to "Private Residential Property" (see below) which the train station obviously is not.
"NO Soliciting" — Here's what the code says:
7.106.030   Solicitation.
   No person shall accost any other person in, or on, any public place, or in, or on, any place open to the public for the purpose of begging or soliciting alms or soliciting donations in exchange for a token service that has been provided or promised.

This section shall only apply to areas within fifty feet of a business establishment, unless such area is located in a shopping mall or center, in which case this section shall also apply to the parking and common areas of that shopping mall or center…
I took the liberty of drawing circles with a radius of 50 feet from the Amtrak office, Spaghetti Factory, and Santa Fe Express Cafe.  Good news for solicitors, despite the new signs posted all over the place, about 75 percent of the train station is still fair game!

Last, but not least, don't feed the birds!
A real shocker, I know, but FMC 9.12.208 on the sign only applies to Parks and is worded for the protection of waterfowl.  This isn't enforceable at the train station.
9.12.208
     1.   "Waterfowl" means and refers to any ducks, geese, or other birds which can be found in a restricted area, which have used a restricted area as a habitat, or are reasonably capable of using a restricted area as a habitat.    2.   "Restricted area" means and refers to any publicly owned lake, pond, stream, creek, fountain, or body of water in the City of Fullerton, including, but not limited to, Laguna Lake.
What's the point of this exercise?  To prove just because the City makes a sign, or assures us something is true and correct — that more often than not — they are wrong.
I know you're reading this [new City Manager] Ken Domer.  Now would be a great time to take a stand against the perpetual incompetence that emanates from all levels of City government. Your predecessor, Joe Felz, had no problem doing things poorly.  Will your tenure be marked by more of the same?