Fullerton Tokers Town Gets a Gang Injunction
An Orange County judge signed a permanent gang injunction against Fullerton Tokers Town yesterday, creating a "Safety Zone" that covers a wide swath of south Fullerton as shown below. Members of FTT are now forbidden from associating with each other, intimidating the public, making gang signs, wearing gang clothing, violating curfew and other shenanigans often associated with gang activity.
Twenty-eight members of FTT were named in the suit, nine of whom are apparently already in prison. Current membership is estimated at 125-150 active members.
Gang injunctions allow prosecutors to charge gang members for harassing or intimidating behavior which would not otherwise be a crime. Presumably this will make it easier for the Fullerton Police to crack down on gang members without any conventional crime occurring.
And that's exactly what makes gang injunctions controversial in Orange County. A few weeks ago the ACLU won a case against the OC DA when a judge determined that naming gang members in the city of Orange without providing them an opportunity to defend themselves in court was a violation of their right to due process. More than 60 alleged Orange Varrio Cypress gang members had tried to appear in court to testify that they were not actually gang members. DA Tony Rackauckas dropped them from the case, but then served the injunction on them anyway.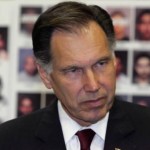 Rackauckas lost that one, so presumably he was more careful about who he's calling a gang member here in Fullerton.