Kelly Thomas Memorial Rally and Protest TODAY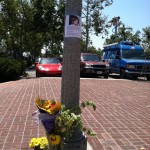 There will be a memorial rally and protest outside of the police station from 9:00 AM to 3:00 PM today (Saturday). Please come by and make your voice heard.  We must let the FPD  know that we will not let up until those responsible are brought to justice.
More details on Facebook.
Also there will be a candle light vigil for Kelly tonight from 8-10 pm in front of Fullerton City Hall …no signs, just candles and songs