Attendance Ain't Mandatory
What do you call missing one third of your work days?  Grounds for dismissal.  Since January 4th there have been twelve meetings of the City Council/Redevelopment Agency, including a special or emergency meeting here or there.  Our dear Mayor F. Richard "Dick" Jones has missed four of them.  That's a 66.6% attendance rate.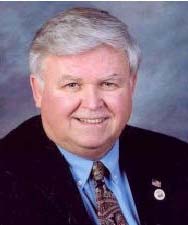 Little wonder that the Three Aging Amigos felt the need to install Don Bankhead as Mayor Pro Tem instead of letting the position go to Sharon Quirk-Silva, who was next in line for it.  They knew their good buddy was going to miss a few in the coming months, and didn't want Quirk-Silva taking the helm while the Col. was skipping his watch.
But don't yah'll worry!  The next city council meeting will reconsider the Coyote Hills development proposal, and you can bet yer boots Dick Jones will be there to ram it home!