Kaboom. One Hundred and Twenty-Seven Million Dollars
Fullerton's public safety pension debt just exploded.  Numbers from a new report just released by CalPERS pin the unfunded pension liability for Fullerton's police and fire at $126,843,150.
The new figures represent a first look at Fullerton's pension crisis after the market crash of 2007 (yes, CalPERS is that slow.)
Of course these dismal digits are probably optimistic, given that CalPERS is still using the ridiculous rate of return that the unions used to cook up these obscene benefits in the first place. We did, however, take the liberty of removing the absurd "smoothing" calculation that adds a magical $73,000,000 to the fund, even though that money does not exist anywhere.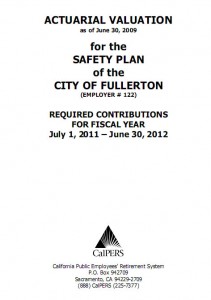 Warning: 76 pages of boring
$126,843,150.00. Let's put that number in perspective: it's enough to fund the entire Parks and Rec department for the next 27 years, re-pave six million square/ft of deteriorating roadway or completely staff Fullerton's libraries until the year 2058.
Paying that debt (assuming it doesn't get worse) will require an additional $3,000 from each Fullerton household, above and beyond our current taxes. That's just for unfunded public safety retirement debt, which allows these public employees to receive 90% of their highest pay at age 50 for the rest of their lives.