La Fringe C'est Nous: Best Campaign Signs 2010
Holy Unadulterated Avatar of Octogenarian Jebus! Just check out these wonderful political signs! 2010 was a fun year for creative signage and if you don't believe that, here are our nominees:
1. Bad Chi. Was there a better way to convey the sheer barfiness of food-poisoner Roland Chi? Nuh, uh. This sign symbolized the very essence de Chi. And in the international symbol that not even a non-English speaker could mistake.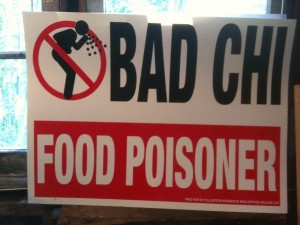 2. Huh? This baby homemade sign with stick-on letters might have been engaging if anybody could read it and if they could figure out what in the hell it meant!
3. The Classic. Nothing succeeds like success, and the classic "NO "fill in the blank" Carpetbagger has become a standard – just like a Sinatra ballad. Doo-be-doo-be-doo.
4. The Riff. Union puppet. Effective but ultimately not even necessary.
5. Murder She Wrote! It might have been effective if not for the fact that the creator of these was the biggest job killer in Orange County!
6. The She Bear. Just play dead and maybe it will go away. The sign that launched a thousand thefts.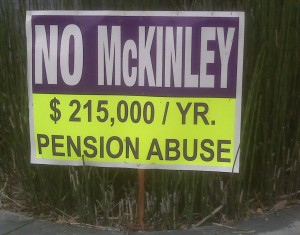 Well there you have it.