CalPERS Delays Scary Pension Reports Until After the Election
A senior CalPERS attorney just told me that the annual pension liability reports for local agencies, which are normally distributed every October, have now been delayed until after the November elections. The delays are allegedly due to furloughs, but conveniently prevent local pension watchdogs from using the data to promote fiscally conservative candidates and pension reform leading up to the November 2nd.
This year's reports would be the first to calculate pension liabilities after the disastrous market crash of 2008/2009 which caused CalPERS to loose a large portion of its holdings, which in turn has caused cities' unfunded liability and annual contributions to skyrocket. But the damage to each city is unknown until the individual reports are released.
How bad will it be? Here's one example: rough calculations show Fullerton's "non-smoothed" unfunded liability for itspublic safety plan will soar past $100,000,000 this year, nearly three times the amount presented last year. Throughout the state, the debts shown in these report are likely to be shocking compared to previous filings.
The data would have undoubtedly been used to draw more attention to the dire pension situation in cities throughout California. The reports would have come just in time for local elections, which makes CalPERS' stated cause for the delay extremely suspect.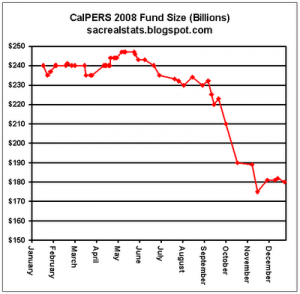 The annual "Actuarial Valuation" reports are prepared by CalPERS actuaries for each participating agency to justify annual increases in required contributions. Here is a example of Fullerton's public safety report for 2008, which is the most recent year available.