Who Is Mimi Walters and How Did We Get Stuck With Her?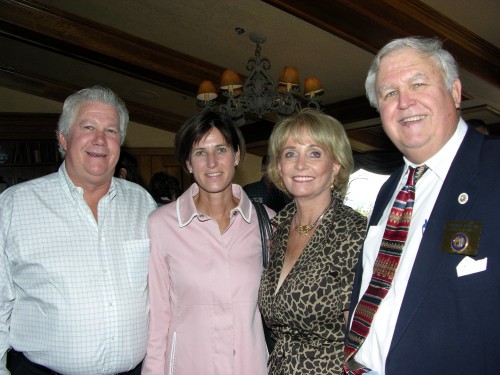 Mimi is the senator representing most of Fullerton in the 33rd State Senate District – so bequeathed by Dick Ackerman who made sure that some (but not all) of Fullerton was kept in his 33rd when redistricting occurred in 2001. Walters lives somewhere down near the beach but is our representative! Ah! Ackermanism, the gift that keeps giving.
In the fun photo above, Mimi Walters is the slender woman in pink, getting crushed by her good pal Mike Duvall's tub of guts.
Why are we picking on Walters? Because to put it simply, her political presence in Fullerton is a pure expression of the repuglicanism propagated by the Ackermans and their cronies. Walters is a long-time buddy of Ackerman, Inc. and, like Mike Duvall, owes her political success to that gang. Naturally she would endorse a carpetbagging, no-ability zero like Linda Ackerman to represent us. Hell, that's just par for the course.
But her latest episode is just as bad. Apparently she is the Campaign Co-chair for some creature named Sue Perez who wants to unseat State Senator Lou Correa for the 34th Senate job. Orange Juice blog has done a post on the subject, here. The 34th District includes a good-sized chunk of south-central Fullerton. And that makes it our business.
Well, guess what? Sue Perez doesn't live in the 34th District! Quel surprise!She also has no political history, no record, no nothing, except that she seems to have some connection to the nut-jobs at the Trinity Broadcasting Network, and is pals with Lorri Galloway – another carpetbagger. Perez has hired Mimi Walter's campaign consultant as an indication of her seriousness.
We would like to think that Mimi W. would have taken some time to soberly reflect upon the humiliation visited upon Linda Ackerwoman before embarking on another voyage into the same turbulent waters, but apparently such was not the case. Could the Gang find no one with even a shred of plausibility? Guess not. In the end it won't matter much because Correa will win comfortably. Still, it would be nice to have a real opponent for Lou in the election.
So soon someone may have to festoon central Fullerton with a whole new round of "carpetbagger" signs. There's just no rest for the weary!
In Puccini's opera La Boheme, an undernourished Mimi finally succumbs to "consumption" in Act IV. Our Mimi may be a little harder to be rid of. But can we really afford any more of this sort of thing?