OC Register Digs Into FFFF's School Laptop Post, Misses the Point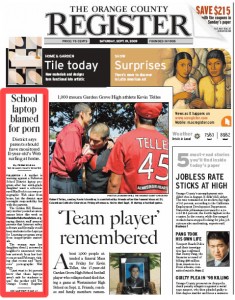 The OC Register ran a story today on our previous laptop post in which a mother came forward to warn parents about the dangers of FSD's school laptop program.
Overall the reporter gave a fair assessment to both sides of the controversy, although the article made the mother out to be naive about her duties as a parent to watch her children closely. Those who actually read the mother's statement on this blog know this to be completely false.
The mother accepted responsibility for wrongly believing the school administrators when they told her that the laptops were safe. In her own words:
I felt stupid for being so naïve in thinking that a child should have a laptop with access to whatever she could dream of. I felt safe in believing that a school district would have the best firewalls to protect my child like they promised that firewalls do. I do believe that parents have a responsibility to watch over their children, and this generation requires a new kind of vigilance, but I also believe that a school has the responsibility to be honest in their abilities to protect our children as well.
Had the district been truthful about the risks associated with the laptops, perhaps this incident could have been avoided. This tragedy acts as yet another example of government employees and electeds distorting or concealing the truth to further their own personal agendas, to the detriment of the public whom they are supposed to serve.
Bottom line: These laptops are not safe for kids to use without direct supervision at all times. That includes all the kids accessing neighborhood wireless on the playground, in front of school, at the bus stop,  at Starbucks or in their own bedrooms. So now the question is, how does a parent monitor a kid with a laptop 24/7?
For most parents, it's nearly impossible.