FSD Teachers: Get Ready for a 10% Pay Cut
Fullerton teachers, it's time to be frank with you because the school board and your union will not.
There will be no new parcel tax to save the FSD budget. Due to unsustainable concessions to the teachers union in previous years, the Fullerton School District will have to cut teacher pay next year. The budget hole is enormous and there are no foreseeable alternatives.
Yes, the educrats and union leadership are starting to fill your head with allusions of a new tax on Fullerton residents that will save the day. But the idea that 2/3rds of Fullerton voters would agree to a big tax increase in the middle of a deep recession is absolutely laughable.
FFFF's appointed delegate to the FSD Budget Scapegoat Committee has provided us with this matrix of salary reductions to close the budget gap that could be as large as $11 million next year. The proposed salary cuts were put together by district administration.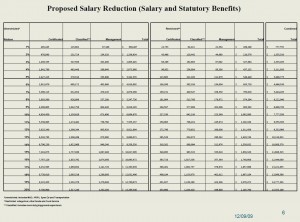 Nobody likes to see their neighbor take a pay cut, but there are probably other ways for the union to deal with this. For instance, teachers might be able to make larger concessions to their lavish retirement scheme or the high-class benefits package in order to preserve salary.
Either way, the school board is going to find their hands tied and the choice will be in the hands of the union – Take the cut or strike. Is it really all about the children? We'll see…