Make taxpayers shell out $400,000 or meddle in an ongoing election.
Pick one.
That's the quandary in front of our city council tonight in the form of agenda item 4:
4. FULLERTON MUNICIPAL CODE AMENDMENT REGARDING CITY COUNCIL VACANCIES
Consideration of an ordinance to repeal Fullerton Municipal Code Section 2.02.020 and follow procedure for filling City Council vacancies as set forth in Government Code Section 36512.
Without getting too much into the weeds the problem the city is trying to address is specific to the costs and ramifications of Jesus Silva winning the race for the District 3 council seat.
The voters in District 3 have 3 choices on their ballots; Greg Sebourn, Jesus Silva & Nickolas Wildstar. If either Sebourn or Wildstar wins this municipal code change does nothing in the foreseeable future.
If Jesus Silva wins then he vacates his current At-Large seat and we, by law, must hold a special election. That special election could cost us between $391,532 – $428,150 per the OC Registrar of Voters.
Silva likely didn't even know he was risking socking the taxpayers with that hefty bill until somebody else pointed it out to him. Or perhaps he just didn't care. That his wife was on council when the to be repealed ordinance was passed points more towards didn't care than didn't know.
We went through 2017 knowing this was an issue and the City Manager couldn't be bothered to deal with it. Then most of 2018 came and went. Nothing. Instead of worrying about a near half a million dollar liability Ken Domer had the council worrying about which volunteers to fire from the various boards and committees around town. As a former member, I'm glad the Economic Development Committee is gone but if you're going to muck with the municipal code perhaps worry about the parts costing us, or potentially costing us, real money before worrying about a committee that rarely met because it rarely had quorum.
Now this issue is on the City Agenda for the coming City Council meeting tonight. During an election.
Yes, the election is on 06 November but absentee ballots are already in the mail and thus the city is asking council to change the rules of elections DURING AN ELECTION. People will have already voted in District 3 BEFORE the council decides what to do tonight.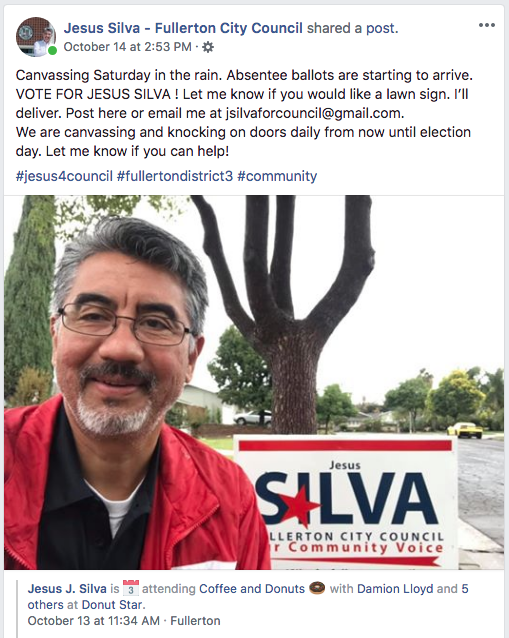 This is ridiculous.
I don't want the city to have to spend $400,000 to fill a vacated seat if Silva wins in District 3. However – and this is a big however – Jesus Silva decided to run knowing that his run could cost us that much money and he did it anyways. That he did it anyways speaks to his character.
That is a political consideration and changing the rules during the election screams of a partisan fix to a problem Silva could have avoided by not throwing his at-large seat away in the quest for 2022 incumbency. Voters make decisions on issues that cost and matter less than $400k and deserve to judge this issue without council interference after the fact.
But how did we get here? (more…)