As Bill Hunt's candidacy for sheriff is building momentum, the previously unreleased Attorney General report on the Greg Haidl incident has begun to surface. FFFF has obtained the report now we pass it along, although it has been slightly redacted to protect the identity of a minor (view the report).
The report was allegedly leaked to the press by Carona's pal Michael Schroeder back in 2005 but was never completely released to the public. Why not?
Perhaps because the 21 page document is primarily an indictment against a department culture created under Carona himself, along with Jaramillo and Haidl back before Carona became a convicted felon and was forced to resign. The report also reprimands several subordinates, including Lieutenants Downing and Hunt for showing "poor judgment". Somehow even blogger Jon Fleischman managed to receive a slap for his complete lack of accountability as PIO for the department.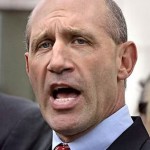 So how will the report affect candidate Bill Hunt?
It's not quite the indictment on Hunt that his detractors claim it to be. Hunt's involvement in the controversy centers around whether Hunt ordered his deputy to remove opinions and facts from an incident report on the night that Greg Haidl, son of Assistant Sheriff Don Haidl, was stopped with some friends who were found in possession of marijuana back in 2003.
The report does accuse Hunt of ordering the police report to be edited in a "questionable fashion," but what does that mean? Were facts removed, or just opinions?
In our interview last month, Hunt indicated that he asked his deputy to remove only an opinion that contradicted both the evidence and a confession.
Additionally, a sworn statement made after the report that was issued by Hunt's sargent asserted that the involved deputy's report was "too opinionated" and so Hunt asked Deputy Roche to remove the opinions. Hunt reportedly said "you need to put the facts – the elements of the crime" into the report.
Five years later, Hunt is still standing behind his actions. In our interview, he told us that he violated no law, no policy and he still maintains that he did the right thing.
I am told that forthcoming federal court testimony will be revealing. But will it conflict with what Bill Hunt told us?
It's also important to note that the AG report was not part of an independent investigation – for some reason Carona specifically requested that an investigation not be performed (see page 2). Rather, the Attorney General based the report primarily on Carona's own internal investigation as conducted by Assistant Sheriff Jo Ann Galisky.