Carpetbagging has always been a problem in local politics, especially in and around Fullerton, and it looks like Fred Jung's appointee to the Fullerton Planning Commission in District 1 might be the latest example.
Jung's appointee to the Fullerton Planning Commission, one Jose Trinidad Castaneda III, recently told the Fullerton Observer that he "decided to move out of Fullerton" which would explain his boasting about being on a commission in the City of Buena Park and yesterday being his last PC meeting.
But, in typical political hack fashion, it looks like Castaneda stopped being qualified to be on Fullerton's Planning Commission at least as far back as 03 June according to Castaneda himself.
Here's the application Castaneda submitted to Buena Park in order to qualify for his new commission that he himself signed digitally where he claims to have moved to Buena Park at least BEFORE the 3rd of June.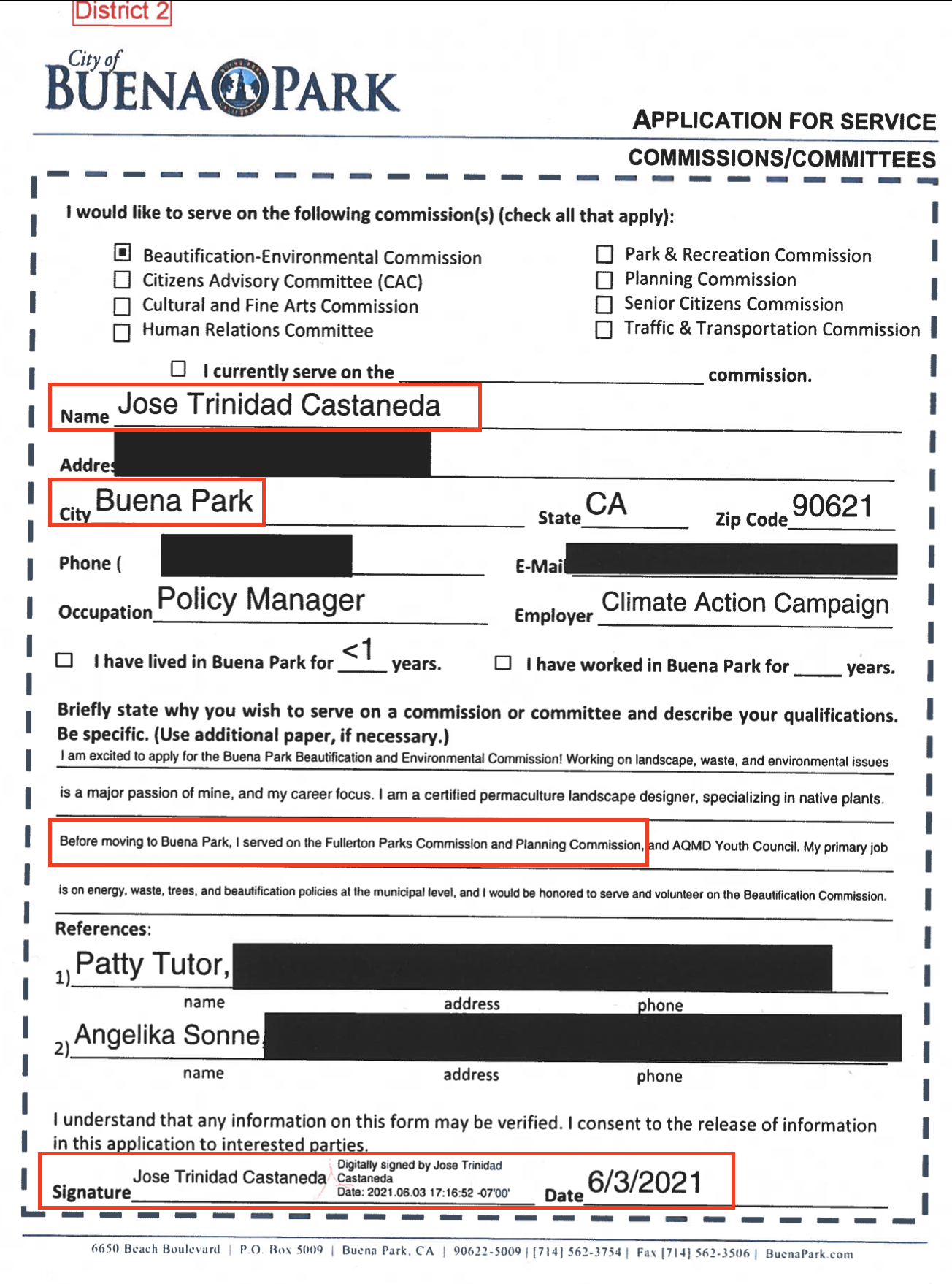 It's interesting that on this form he claimed that he "served on the Fullerton Parks Commission and Planning Commission" in the past tense. Sure, he used to serve on the Parks & Rec Commission but at the time he filled out this document he was CURRENTLY serving on the Planning Commission – not formerly. Why lie?
Probably because owing to City Ordinance, it's a requirement that somebody on Planning Commission be a resident of Fullerton. He was likely very aware of the problematic issue with voting on items that impact the city in which he no longer lives OR admitting to Buena Park that he didn't live or do business with the city.
To be on the Beautification Commission in Buena Park you have to live in the Buena Park (which he claims on this form, while claiming otherwise on Facebook), work in Buena Park (his employer is in San Diego) or do business in Buena Park which he makes no mention of here. His only self-claimed qualification to be on this BP Commission, as written by him, is his residency..
Thus if he moved to Buena Park, as he claims on this form as his qualifying requirement to be on this commission, then ethically he should have recused himself from all votes and meetings on Fullerton's Planning Commission. His recusal should have happened immediately after the date of his move, which was obviously at least before last night's PC meeting if not before the 27 May meeting or sooner. Did he feel entitled to vote despite this obvious conflict? Did Jung or Fullerton's City Attorney Jones & Mayer tell him the conflict didn't matter? Did he bother to tell Fullerton, or Jung, that he had moved? Did he even move? Being that he obviously lied about having "served" in the past tense on Fullerton's Planning Commission, the entire document is suspect which raises even more questions.
I guess for now we simply must say adieu to JTCIII as he, allegedly, leaves Fullerton behind in his endeavors to climb the political ladder in Buena Park. As for the facts of this matter? We probably won't ever know the truth in this ethical quandary because Fullerton does ethics about as well as it paves streets.