My story as a FFFF defendant
Most readers of this blog are well aware of the recent settlement between the City of Fullerton, FFFF, Joshua Ferguson, and myself.
Joshua did a great job explaining various aspects of our lawsuit in a video, and why we settled. I encourage you to watch if you haven't already. Until now, I've been pretty quiet about this lawsuit and haven't said much. In an effort to clear our names, I'd like to dispute some of the City's claims and share new information you might find interesting.
This is what the City's Dropbox account looked like.
Typing www.cityoffullerton.com/outbox into a web browser redirected anybody to this open and unsecured Dropbox account. The City went out of their way to disable security controls to make it possible for all users to see all files.
Notice some of the files have our last names, Curlee and Ferguson, in the file name itself. Who wouldn't download a file named for you?
The City told us about the Dropbox in the first place.
The City of Fullerton, first through public records disclosures, and later directly, via written and verbal communication, offered to use Dropbox for public records requests made by us. If the Dropbox was such a secret (it wasn't) they should have redacted the link from our records requests, and not made it available for public records disclosures. After all, the security of confidential city records is THEIR responsibility. Yet they failed miserably and tried to blame us for it.
We received dozens of city e-mails showing the Dropbox link in plain view. Here's an example:
This was not a link to some internal computer system, nor an external system that required a username/password. This was wide open for the entire world to see and download whatever they wanted.
The City's Director of IT was fired, quit, or told to retire.
Numerous City employees reported to us that Fullerton's director of IT, Helen Hall, was fired, quit, or told to retire after the Dropbox documents were published. We also heard stories of her being placed on administrative leave and escorted off the property. I really don't know which version is accurate. What I do know is Helen Hall no longer works for the City of Fullerton.
Now-fired City Manager Ken Domer made no effort to contact me.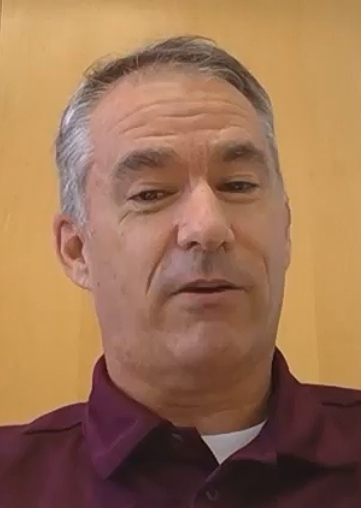 Recently fired City Manager Ken Domer made no effort whatsoever to contact me before the onset of litigation. That's strange since he had my e-mail address and phone number. We had several friendly conversations and he knew exactly who I was. For a guy who tried to portray himself as a fiscal conservative, or at least a fiscally-responsible public servant, he couldn't have failed worse. The reality is I would have talked to him about this issue, but he made no effort to even try. Ken, I hope you give this some thought while you're unemployed as you single-handedly made Fullerton's fiscal problems a whole lot worse. At least $800,000 worse.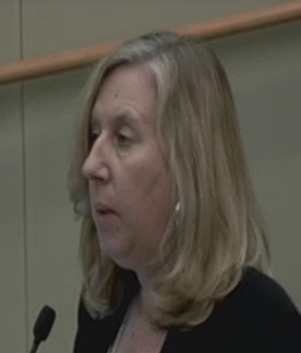 Former HR Director Gretchen Beatty jumped ship (to a higher paying gig at the City of Anaheim) a few months after the lawsuit was filed. She too had my e-mail address and phone number, and made no effort to contact me before the lawsuit was filed.
You might remember the City sent a cease-and-desist email to Joshua and followed that up with a letter to the FFFF attorney Kelly Aviles and neither letter mentions my name at all. They had all the means necessary to send the same letters and emails directly to my inbox, but didn't do it. How fun is that to get sued completely by surprise?
The City's supposed IT "evidence" against me was nonsense.
They hired some guy named Matthew Strebe from a company called Connetic to do an IT analysis to support the lawsuit. In his declaration, he wrote the following: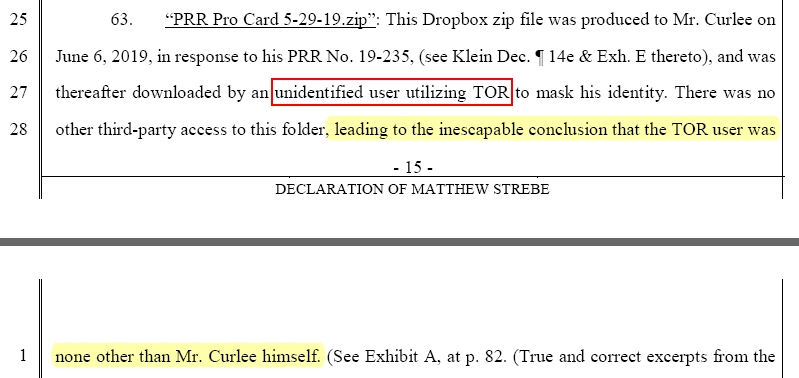 Huh? Read that over a few times. How is it an "inescapable conclusion" that the TOR user was me when in the preceding sentence it was an "unidentified user utilizing TOR?" You can't have it both ways, Matthew Strebe. This type of shoddy IT analysis is what the City paid thousands and thousands of our tax dollars for.
When I receive public record disclosures from the City Clerk's office, I normally forward those e-mails to several people throughout Fullerton as soon as my phone beeps with a new email. I figure if those records requests interest me, who knows, other people might find them interesting as well. Additionally, I've had trouble with AT&T and Time Warner timing out when downloading large files from Dropbox. In the past, I would ask a friend to download Dropbox files for me, then re-upload to another file sharing service that worked better.
All of this to say that just because a link provided to me was downloaded by a Tor browser does not mean I downloaded it. Besides, the technology behind the Tor Browser makes it 100% impossible to prove who downloaded what anyway.
Our well-accomplished IT expert John Bambanek – whose services were provided free of charge thanks to the Electronic Frontier Foundation – saw right through Matthew Strebe's poor analysis and had this to say when we settled:
Chris Tennyson
One of the things that angered me most about the lawsuit is their naming of Joshua's co-worker Chris Tennyson as a defendant. I knew of Chris Tennyson because he worked at the camera store for many years and I had seen him there. But get this – to this day, I've never once talked to Chris Tennyson. Not in person, and not by phone, text, email, or other means. He literally has nothing to do with this blog.
Kim Barlow and her other bully attorneys at Jones & Mayer knew this all along, and yet they sued him anyway to drive a wedge between Joshua, the camera store, and to destroy their friendship in the process. They succeeded.
How horrible to be sued for something your co-worker allegedly did wrong in his personal life that's unrelated to your field of work? That's cruel and unusual punishment in my opinion.
The City dropped Chris from the lawsuit as soon as they had declarations from him and the camera store owners helping the City's shoddy case. This shows there was never an investigation done and that nobody was talked to or questioned until AFTER the lawsuit was initiated.
Conclusion
I do have more to write about and will break that out in new posts over the coming days. This post is plenty long enough for now.
In conclusion, I want to thank Bruce Whitaker, Nick Dunlap, and Fred Jung on the Fullerton City Council for voting to settle. Thank you for wanting to put this behind us. Thank you for recognizing the evil done by the previous City Council majority and undoing it all. We appreciate you.