Buying Better Pensions One Tax at a Time
…so far.
That's right, the local hero unions dropped $10,000 each to try to help sell you on raising your taxes. As always we have to stop and ask "why?".
It can't be to fix the roads because the unions don't care about your roads or infrastructure as most of their members don't live in Fullerton. If they DID care about such things they wouldn't act like mercenaries demanding unsustainable pay, playing cities against each other, while watching your city crumble.
So why did each hero union drop $10k? Because, as we've been saying for some time now, Measure S is just a pension tax. Allow me to illustrate the problem with our budget USING the budget.
This is the oldest budget I can find online currently and it's from 2004-05. I've added the percentages in total dollars. Remember, this is from 15 years ago.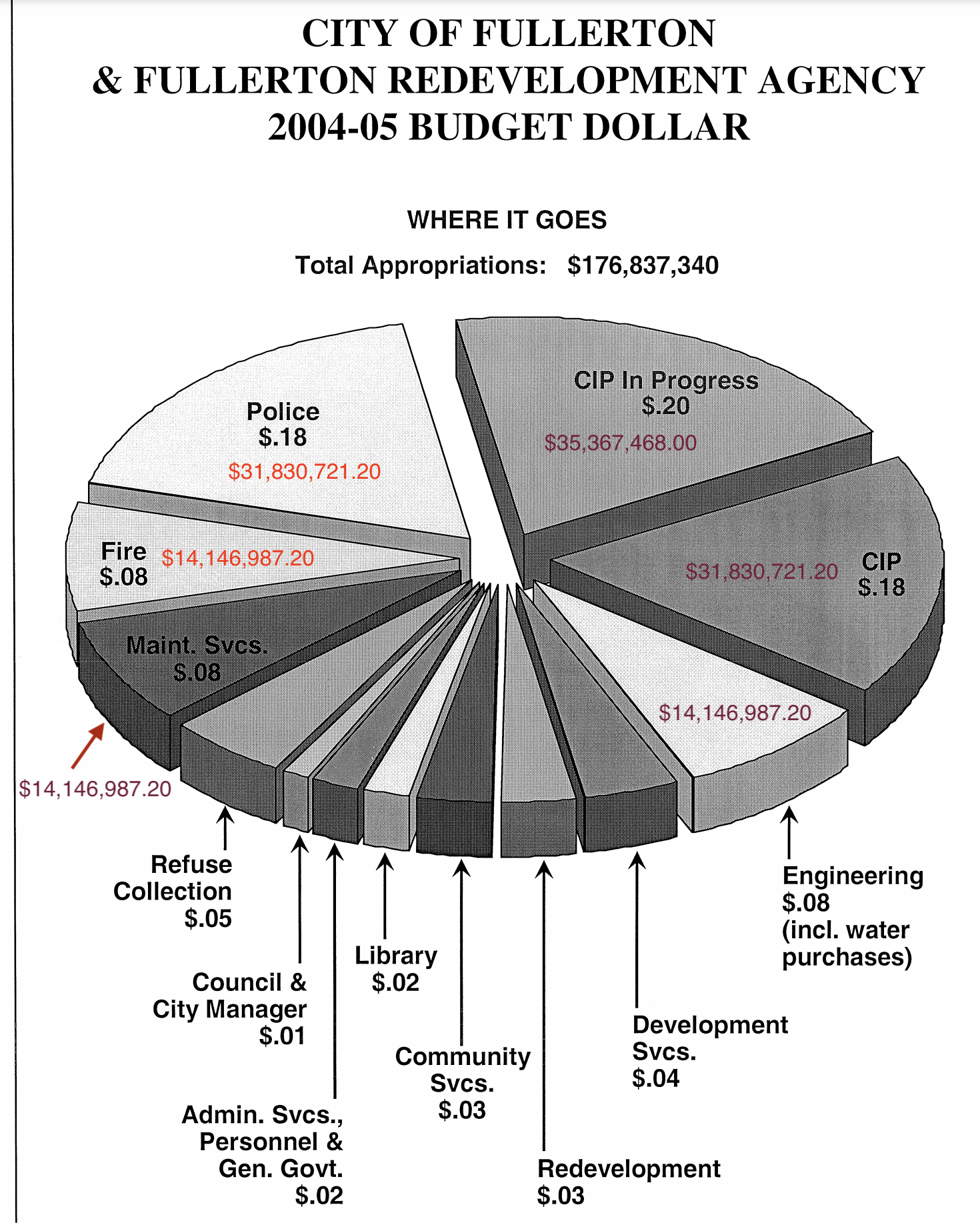 And THIS is from this year's budget. I've added the percentages to correspond to the previous example.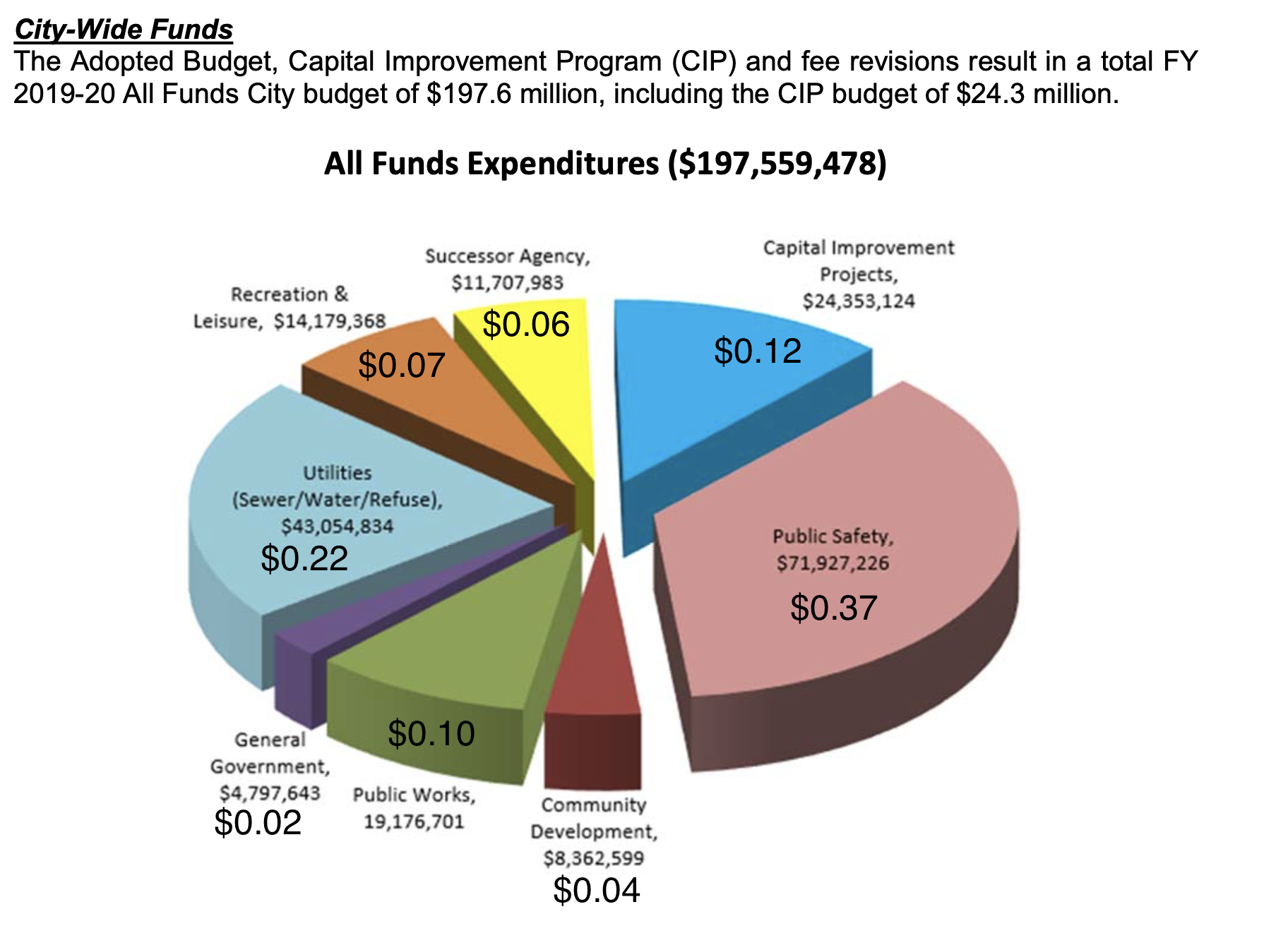 Do you see the issue?
In the 15 years between these budgets, the budget TOTAL has gone up by over $20,000,000 (20 Million) and in that same amount of time the Police/Fire budgets have gone from consuming 26% of the budget to now consuming 37% of it.
That's NOT just the General Fund. That's the entire budget – all special taxes, grants, all of it.
Right there in plain math, that is where your money for roads & infrastructure went.
It should surprise precisely nobody that the city is demanding more money for infrastructure considering that they've been systematically cutting it for decades to give it away in payroll and pensions.
Now this is important: The total budget increased by 11.71% over fifteen years.
An 11% increase in the total size of the pie and still the heroes ate an additional 11% MORE (a larger slice) of the budget for a growth of $25Million+ in Public Safety spending over those 15 years.
It doesn't take a math genius to figure out what's happening here and why it might be a problem. This is not an issue of revenue. Fullerton takes in more tax revenue than it ever has in the city's entire history. Every single new dollar that came in from your sales and property taxes, every single one, went straight to public safety salaries, benefits and pensions. It went to fund their outdated and ridiculous service models / toys (such as using a ladder truck to respond to every third passed out drunk or rolling 6 police cars up on every DUI).
And there you have it. This is why our roads suck and our pipes are bursting. This is why our water rates went up and will continue to go up. And yes, this is why the heroes dropped $20,000, so far, into trying to convince you to tax yourselves and your neighbors more. It's also why the same types of people get endorsed by Police and Fire Unions year after year. The bought and paid for candidates will always make sure the heroes have their lifted trucks and river toys before you have safe roads.
There is no such thing as enough when it comes to taking your money and the return on investment for the unions here is enormous. This isn't about bias, union hating, or "anarchy" as Ahmad Zahra likes to pretend. This is about simple math – the kind Jesus Silva claims to have taught but refuses to understand. Just look at the city's own numbers.