A New Website Shines Spotlight on Scam Fullerton School Bonds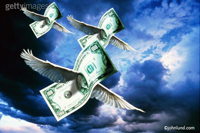 Usually money-ravenous school districts with their armies of six-figure educrats count on the voters in their districts to be either indifferent or stupid. At least 55% worth. That's the level of support it takes to pass one of their jaw-droppingly expensive general obligation bonds, bonds that this March would cost the average Fullerton home owner a whopping $400 a year in new taxes.
The website is http://www.noschoolbonds.com.
Check it out. And spread the word.