A Hill. Wrapped in Plastic
A few weeks ago while at a local eating establishment in the Downtown area a gentleman stopped me by name, which isn't always a good thing in malcontentville, and asked me to inquire about the plastic sheeting up near the YMCA.
You may have seen it while driving North on Harbor Blvd: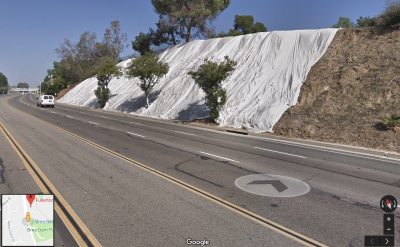 So ask I did. Here is the recent answer according to some undisclosed source at the Public Works Department as communicated by the Clerk's office:

"Plastic sheeting the slope on Harbor Blvd is done with City staff and costs about $12,000. We have been sheeting the slope for 6+ years."
I've not sent in followup requests for invoices or details about this particular project but I'm sure if somebody wanted to do so the city would be happy to explain why spending at least $72K for this particular issue/area is the best solution and has been the best solution for over half a decade.
What say you friends? Is this project worth $12k/year for who knows how long?