More for Less in Public Works
It looks like Fullerton is again in the business of paying more for less when it comes to hiring bureaucrats to bureaucrat. One of our newest hires, Mary "Meg" McWade, who is set to replace Don Hoppe is going to be paid $195,000 + bennies. This despite some questions about qualifications.
Being that the Director of Public Works is also the City of Fullerton's "Civil Engineer" it is preferred that our Director be, well, a certified engineer.
If you look at the qualifications for this Director position you'll find:
I suppose emphasis on preferred.
I checked McWade's Linked in and saw no evidence of such qualifications: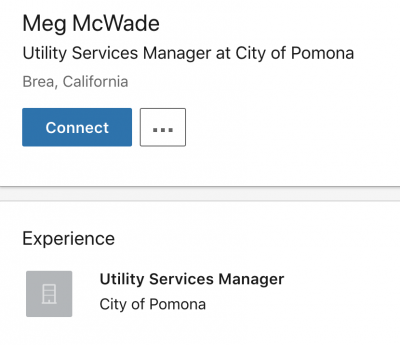 AND if you look up engineering licenses by name you'll come up with a big 'ole Goose Egg when looking for our new McWade.
Now we know that now retired Don Hoppe was paid, in 2017 (the most recent year with data available), $170,000 and he was a certified engineer.
That means the city's valuable of McWade is $25K+ more than Don and Don was paid $1 over the Salary Control Point for his position.

Thus we paid Hoppe less to be more qualified and to do more. Any time the Engineering Stamp needs to come out our Ms. McWade will have to have a minion wield it for her or we'll have to pay somebody else to do what Don was already able to do owing to his certification.
Maybe you could argue that Don should have left or demanded more pay for his qualifications and that employees need to be more assertive but if we're going to pay somebody new to Fullerton well above the Salary Control Point there should be qualifications to justify that pay and we just don't see it here.
I guess it's good for bureaucrats that they work in a distorted market and that qualifications are "preferred" and not required. Good for bureaucrats, but not for those of us paying their way.