The Parks & Rec Manipulation of Public Comments
Readers of this blog know good and well the many failures of the Pine Forest Stairs at Hillcrest Park, not to mention the $724,000 bridge to nowhere that will soon become reality.
What you probably don't know about are the shenanigans used by City Hall to influence the City Council vote.
Funding for the bridge, fountain, and "Great Lawn" improvements was approved on a 3-2 vote (Whitaker and Sebourn: No) at the May 16 City Council meeting.  A couple weeks earlier, I made a records request for documentation on Hillcrest Park.
Jennifer Fitzgerald's appointee to the Parks and Recreation Commission, Gretchen Cox, made public comments in support of the project.  Having skimmed through the e-mails provided by City Hall the day before, I thought to myself, wait a minute, portions of her comments sounded awfully familiar.
As it turns out, my suspicions were correct.  A week prior, Parks & Recreation Director Hugo Curiel had one of his employees, Doug Pickard, e-mail Gretchen Cox a list of "talking points" to assist her in making attacks on Councilmembers Sebourn and Silva: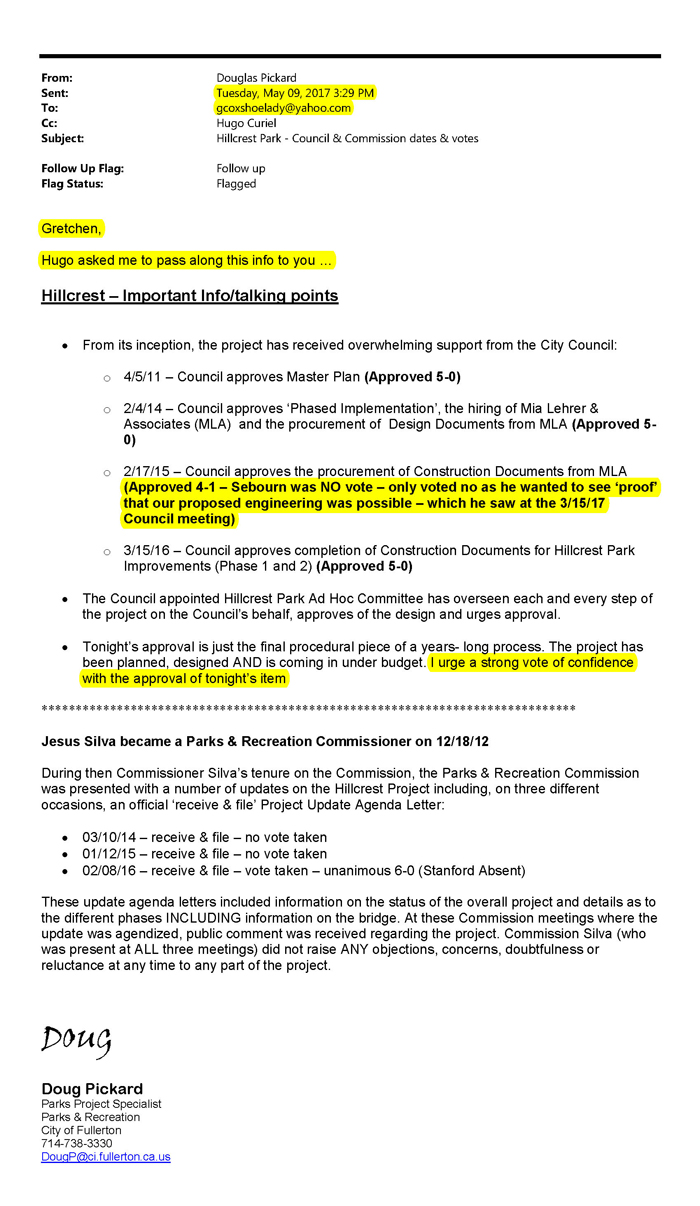 Portions of the e-mail were in fact used by Gretchen Cox during public comments.  Let's go back and compare the e-mail to what she actually said.  This ought to be fun!
---

Gretchen Cox says 2:15-2:36 in the video clip:
"The only no vote, so far, in all of this time, has been Councilmember Sebourn's concern when he said he wanted to see proof that the engineering plans were actually possible to accomplish.  That was in February.  In March, those construction documents were presented, and you all voted unanimously to approve them."
---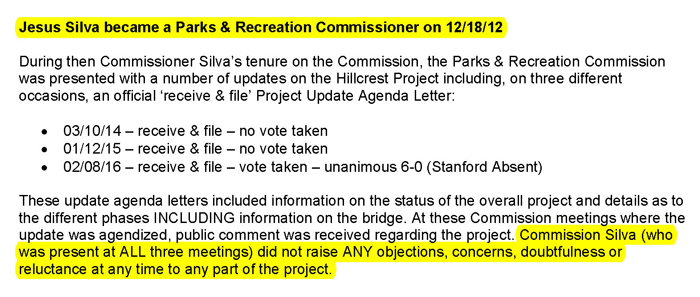 Gretchen Cox says 2:55-3:02
"…Mr. Silva was on Park and Rec for four years, and never voiced opposition to any parts of the plan."
---
How embarrassing — all of that maroon-colored text came straight from the e-mail they sent her.
This raises a number of ethics and legal questions.  Why didn't Hugo Curiel/Doug Pickard have the e-mail sent to the entire Parks & Recreation Commission?  Why is Gretchen Cox doing favors for City staff, instead of remaining impartial as a Parks Commissioner and member of the public?
Lastly, did Parks & Rec staff violate state law by engaging in "political activity"?  This wasn't the usual sales pitch by City staff.  They explicitly urged Gretchen to make a plea for a yes vote by writing, "I urge a strong vote of confidence with the approval of tonight's item."
Govt. Code §3206.  No officer or employee of a local agency shall participate in political activities of any kind while in uniform.
Most have interpreted this to apply primarily to elections and candidates for office. Attorney Jeffrey C. Freedman of the law firm Liebert Cassidy Whitmore appears to have a broader view of "political activity" as he wrote on the firm's blog (emphasis added is mine):
Nonetheless, the Government Code does allow local agencies to adopt rules and regulations that prohibit or otherwise restrict employees from engaging in political activities during working hours and/or on the agency's premises.  (Gov. Code sec 3207.)  However, in order to avoid applying this provision too broadly, the definitions of "politics" and "activity" need to be examined.  California's statutes provide no guidance in this regard.  The California courts have had only a few opportunities to define "politics," and have adopted a very broad definition in those situations where they needed to do so.  Politics is not limited to supporting or opposing a candidate; it includes advocating or opposing a position or policy on any issue of public concern, such as civil rights, employment discrimination, war, foreign affairs, you name it!  The dictionary definition of "activity" is even more broad: "behavior or actions of a particular kind" or "the quality or state of being active" with "active" defined as "characterized by action rather than by contemplation or speculation."
Draw your own conclusions from that.  Did Parks & Rec staff break the law?  I don't know.  Even if they did not, at the very least the conduct by Parks & Rec staff was both tacky and inappropriate.
They corrupted the process by using Gretchen to say things they wouldn't otherwise be allowed to say.  Public Comments should truly be Public Comments–not Staff Comments voiced by a member of the public, and that's exactly what happened here.
The City is within its rights to forbid staff from engaging in this type of behavior.  Will they do anything about it?