A Day in the Life of an Assistant to the City Manager/Economic Development Manager
For a while now we've been trying to figure out how Nichole Bernard wrangled herself the title of Assistant to the City Manager/Economic Development Manager under the leadership of the departed Joe Felz. Even more perplexing is that nobody can figure out what she actually does all day, or what value she provides to the taxpayers of Fullerton.
Well, in an effort to shed some light on the subject, we recently got a hold of Nicole Bernard's Outlook calendar. The documents have been dutifully provided to you below.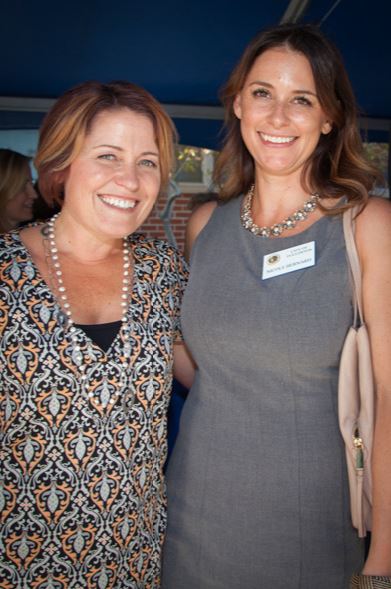 Nicole Bernard Calendar 2015 – Nicole Bernard Calendar 2016
According to these reports, Ms. Bernard calendared at least 80 mid-day working hours last year for the Fullerton College Foundation – not her employer – the City of Fullerton. That's the equivalent of two working weeks. Mrs. Bernard is apparently the board president of the FCF.
Former City Manager, Joe Felz, Bernard's patron, obviously let her do whatever she wanted, including using her office to host meetings for non-city business.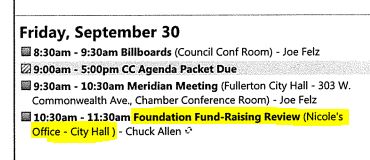 Of course running a private non-profit is not part of Ms. Bernard's day job, but she seems to have confused the two. It's also notable that she took home $174,102.16 in pay and benefits last year from the City of Fullerton. How much of that grandiose salary was wasted on unofficial business, we will never know.  But we do know that Ms. Bernard spends a substantial amount of her work time doing whatever the hell she wants, and that's not OK.
Readers, please feel free to peruse the calendars and note anything else of interest.