The Hillcrest Park "Disposable" Stairs to Nowhere
This past weekend, I took the opportunity to check out the Hillcrest Park Stairs to Nowhere, only to realize these are, indeed, disposable stairs.  With the gate open at Lions Field, and no signs posted to keep out, I went for a hike.  Take a look at the photos — you'll see what I mean by "disposable".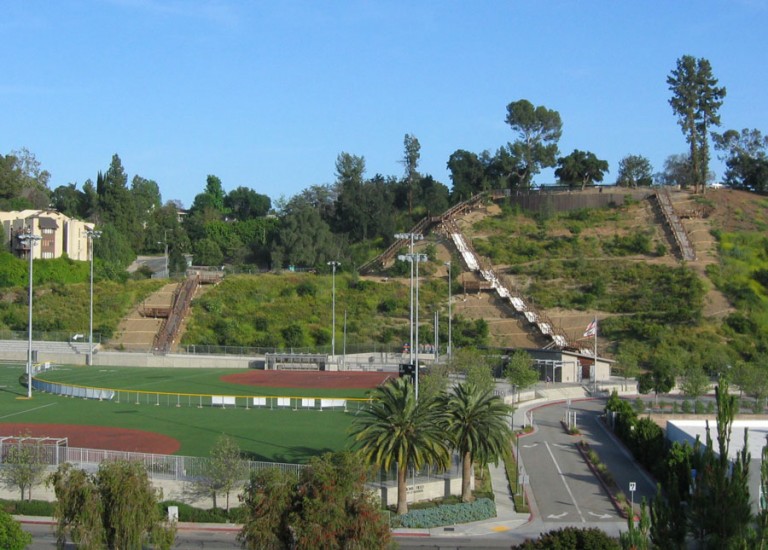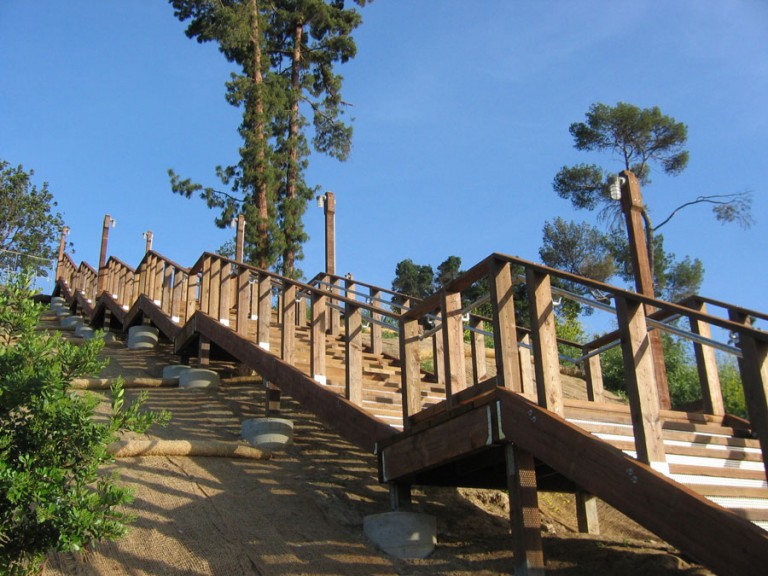 Lights on the Stairs
Even though Hillcrest Park closes at Sunset, they installed lights on the stairs.
I'm sure the perverts who frequent Hillcrest Park after dark will surely appreciate it.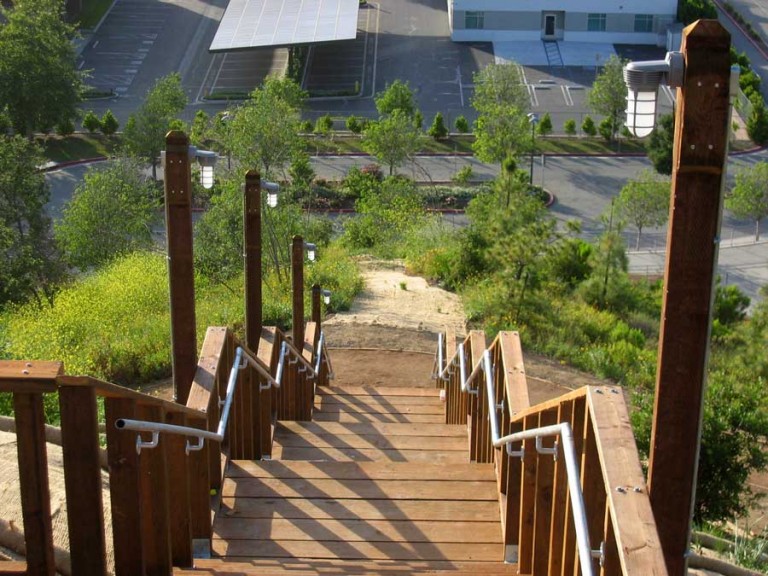 At least we can watch our kids on the field, right?
A few balconies with benches resembling something straight out of Knott's Berry Farm were constructed.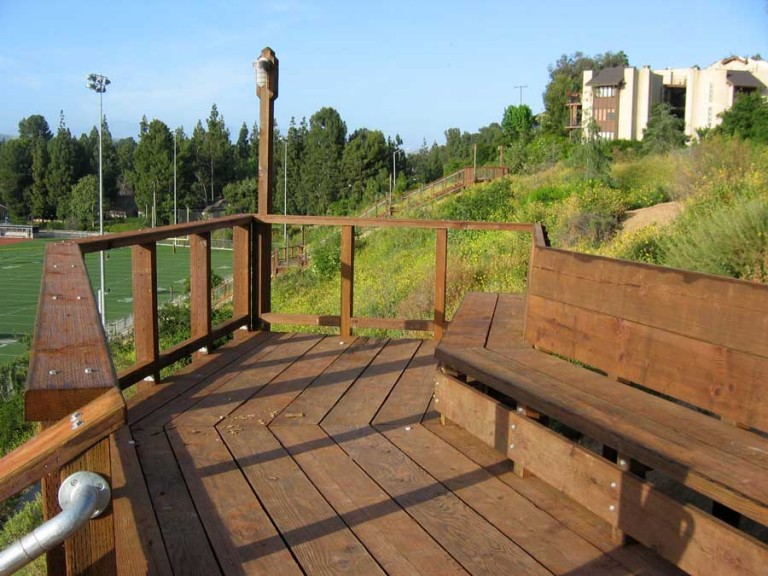 I'm of average height and the view of the field while sitting down is atrocious.  The view will be much worse when the wire cable is installed between the vertical supports.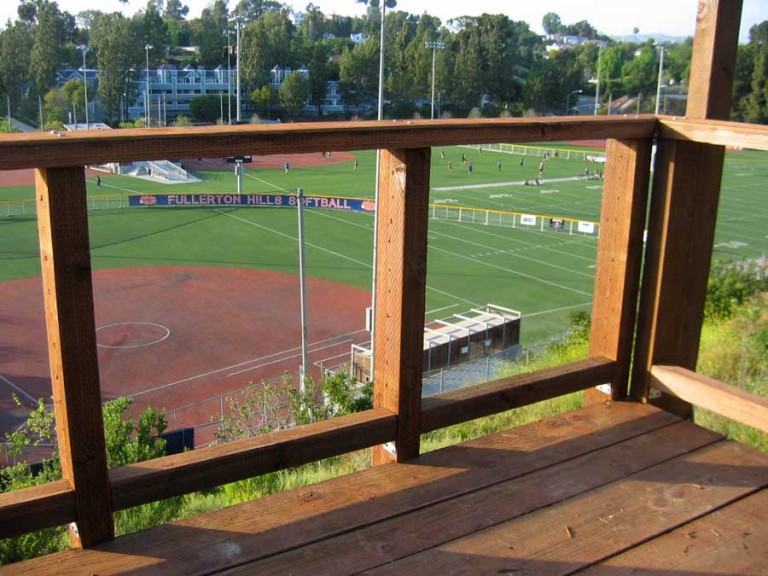 Okay, so you like stairs?
The wood is of such poor quality that only a masochist would dare use them with open-toed shoes.  Moms and Dads:  Do NOT let your children use these stairs barefoot or with sandals on!  I guarantee you this is a trip to Urgent Care waiting to happen.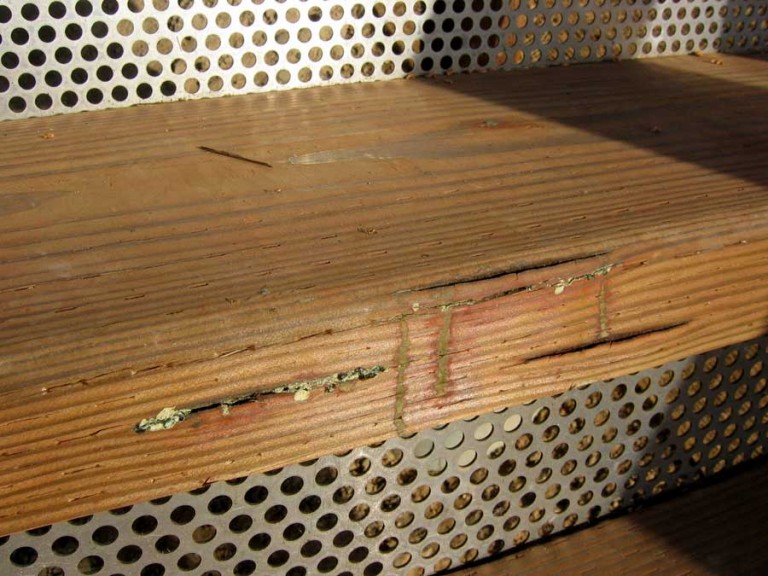 No problem, just replace the wood?
Anyone with an eye for construction or engineering will see how poorly the stairs were designed.  The walking surfaces of the stairs are also load-bearing for the handrail supports.
To replace a horizontal section of lumber, the handrails and supporting structure will have to be disassembled — or lifted up with a crane as one assembly — because they're also installing wire cable to accompany the handrails.
Removing a vertical support to slide a new piece of lumber underneath won't be possible with the wire cable there.
Did I mention that pressure-treated wood doesn't last forever?  Ten or fifteen years from now, this $1.6 million waste of money will have to be bulldozed as a safety hazard.
Perhaps the stairs can be maintained in future years like playground equipment at Ford Park?  After all, plywood is the cure for all problems.
Next week, they want the City Council to waste another $5 million of Park Dwelling Funds on Hillcrest Park.  That same $5 million could be used in Coyote Hills instead.  Hmm…what will they do?