Jan Flory's Poisoned Park
Just the other day Fullerton City Council candidate Jan Flory was heard to remark about needed reform: protecting the poor, underpaid and overworked city staff that used to bring her all those important projects when she was "on council" right after the last ice age.
Well here's a staff-driven project that her beloved staff dumped on her and which she happily voted for: The Poisoned Park.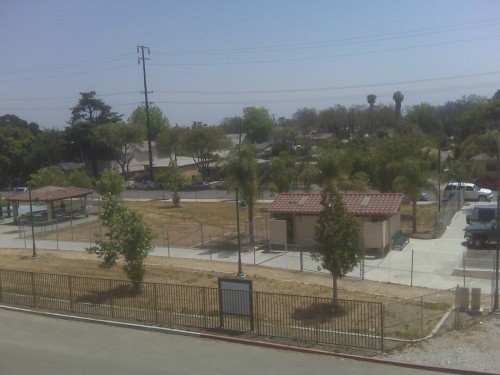 We did a whole series on this fiasco that you can read about here and here. In a nutshell, the City bought contaminated property from the Union Pacific Railroad on West Truslow for a community park. Forget the basic fact that nobody in the neighborhood wanted a park, let alone a gang hang out; the land was there and a private party wanted to buy it.
Fullerton's stellar bureaucracy led by Susan Hunt (Parks Director), Bob Hodson (City Engineer), Jaim Armstrong (City Manager), Gary Chalupsky (Redevelopment Director), and Paul Dudley (Planning) just couldn't get in the way of a pending deal fast enough. The City steeped in and bought the land for over a million bucks, then they built their park. More millions spent. All approved by Jan Flory.
And then disaster. It transpires that there was a toxic flume under the site. A fence was set up around the offending park and it remains closed to this day, over ten years after it was purchased, falling into decay. Nobody had ever bothered to to a proper environmental assessment and make the sale contingent upon its results.
The Poisoned Park may well be the exemplar of an incompetent collection of boobs from whom no accountability was ever demanded and from whom none was ever delivered.
But to Jan Flory's "lights" these are the "heart of the City." Hmm.