Fullerton's Most Expensive Park?
Just when you thought the Parks and Recreation Department might get their act together comes another gem on next week's agenda.  This time, it's a $903,500 land purchase for a new park at 3001 Pearl Drive.
The vacant lot used to be home to a swimming pool and clubhouse for the adjacent apartment complexes, which the 33 property owners failed to maintain.  Those same property owners now want the City to build a park contingent on the City forking over cash to buy the land.
So what is the land worth?  $740,000 according to the appraiser, who notes that an "extraordinary assumption" to build  high-density housing was used.  Translation:  The $740,000 estimate could be totally worthless and the appraiser admits it.  Nothing more is divulged about the appraised value because Hugo Curiel only included two pages from the appraisal report.   Page One and Page Two
And it gets worse.  Hugo wants an additional 20 percent of the appraised value ($148,000) for an administrative settlement to be paid out to the property owners.  Once again, Hugo fails to provide any sort of written justification for this: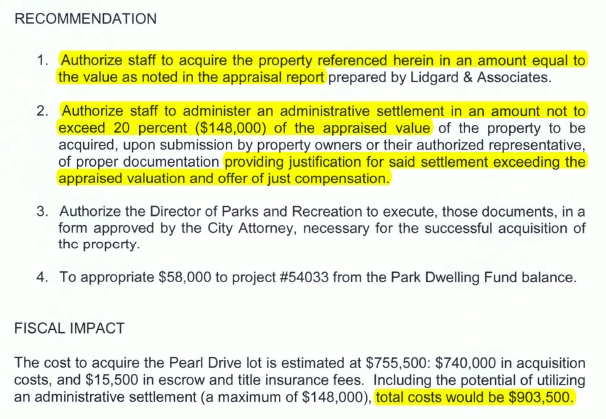 The parcel is 0.398 acres in size.  At that price, it is equivalent to $2.27 million per acre which is more than double the price Chevron is asking for Coyote Hills land.  This would be the most expensive land ever purchased for a Fullerton park.
I have a question. Why should we pay the property owners a premium price when it was their own negligence that created this situation?  In fact, why pay them anything at all, provided the City agrees to build a park?
Makes you wonder if the property owners are more interested in a cash payout for themselves, or a park for the neighborhood's benefit.