The 2012 Fringies© Are Finally Here
Yes, my human Friends on Earth, 2012 is not yet over and this provides me with a final opportunity to bring to you what you desire: the Friends For Fullerton's Future Annual Fringie© Awards.
It's been a long, tough year of ups and downs and believe me, as a regular recipient of broomstick whackings from my former mistress, I know tough.
This year's version will be, of necessity abbreviated since I have spent the past month undergoing a series of painful distemper treatments. And so I leap straight into the awards.
In the category of Most Egregious Whitewashes there really was no competition. Register writer Lou Ponsi and the wanker who publishes FullertonStories were simply outgunned by the ridiculous "Gennaco" Report, a notorious mutual stroke-job between the City and the obscenely expensive stooge it hired to help make the Kelly Thomas murder go away. The various secretions of this pabulum outdid one another in saying nothing and studiously avoid naming names and demanding accountability. Too bad. But we know who did what and we know what it is: A Culture of Corruption.
In the category of Worst Political Campaign, the selection committee had no choice but to give the Fringie© to none other than Former Assemblyman Chris Norby, who took a sure thing and managed to unmanage his way into unemployment. Was it his political expert, John Lewis who let him down? Was it the tsunami of last minute hate pieces mailed out by the unions and crony-capitalists? Was it his own lethargy? Whatever. Norby has a massive pension and doesn't need our sympathy.
FFFF added a new category this year, Biggest F-U From The FPD. There have been many instances of the usual arrogant claptrap, the one instance that caught the selection committee's eye was the promotion of the egregious Andrew Goodrich, the department spokeshole who has been peddling self-serving half truths and outright fabrications for years as FPD P(Mis)IO. If any single gesture signaled that there was no internal self-reflection or repentence in the aftermath of the Thomas killing and the falsehoods peddled by Goodrich, this was it; and, also a sure sign that the continued reign of error will go on. Even Dan Hughes admitted it was a communications failure; and the failure was promoted. Got it?
In the past, the Fringie© for Best Video was awarded for videos that were intentionally funny. But in 2012 the committee was forced to admit that the most entertaining video was created as a serious campaign effort by none other than Doug Chaffee. The portentous music followed by the dyed hair, cracking voice and the milquetoast pronouncements were worth their weight in gold, revelation-wise. You can watch it again, here.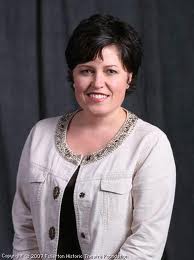 Best Political Campaign 2012. This Fringie© was a tough one. Perhaps because nobody hit her in a year of rancorous politics, Jennifer Cowan-Fitzgerald did very well, indeed. Well, you have to give credit where credit is due; and sometimes doing nothing, saying nothing, and standing for nothing is the best way to get elected. It used to be like that in Fullerton, and maybe is again.
A co-winner is in order, of course, to recognize the campaign conducted by Tony Bushala, a local hero, to root out the disease in the body politic known as the Three Dead Tree Stumps. And so we recognize the Great Fullerton Recall of 2012 that laid a 2-1 whumpin' on the Ancient Regime.
The Lowest Political Political Prostitute Fringie© was an easy call for the panel. Despite the nauseating spectacle of Jan Flory and Rick Alvarez clinging to the FPOA in a diseased, chancrous lip-lock, we just had to acknowledge the whorish spectacle of former conservative State Sentator Dick Ackerman (R-Irvine)  making pro-union robocalls to try to keep Fullerton in permanent thrall to its overpriced, unaccountable gang of cops.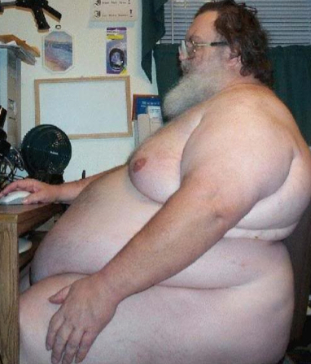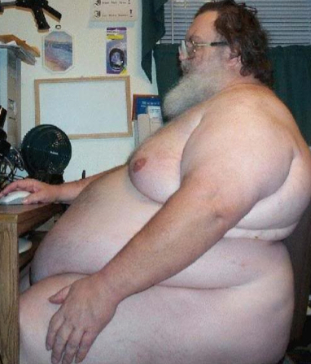 The Best Image0f 2012 Fringie© was another category with keen competition particularly given the political resurrection of my former mistress. However, in the end, the selection committee chose a picture that sublimely captures the essence of the unemployable, ego-driven loser who finds reward in the world of political blogging instead of gainful employment. And so we chose Big, Fat, Naked Dude In Front of the Monitor, an image that is only missing the giant, super-family-size sack of Doritos®.
And speaking of super-size, as a consolation prize we also award a Fringie© to this jaw-dropping image of  Corpulent Fullerton Corporal at the Anaheim cop-induced riots, an image that succinctly captures the essence of the Culture of Corruption: overarmed, overweight, and under accountable.
In 2012 the Scariest Ghost of Fullerton Past Fringie© could only go to one creature – my former mistress, Jan Flory. As other relics of the last Ice Age disappeared from the political biosphere, the septuagenarian Flory returned, proving that there was plenty of bitter bile left in the bottom of the bag. Watching Mrs. Flory vote for Bruce Whitaker to be your new mayor was pure delight. Now watch out for the broomstick, Bruce!
Speaking of Flory, here is the winner of the Best Campaign Sign of 2012, a terse yet eloquent reminded of who Flory will work for now that she has managed to slither back into office.
Finally, the Best Hope For Fullerton's Future Fringie© goes to Mayor Bruce Whitaker, who has spent most of his adult life fighting for honesty, transparency, and integrity in Fullerton government. Now more than ever you will need Mr. Whitaker to keep an eye on the doings of the cops and bureaucrats as they try ever so hard to re-write the history of Fullerton in 2011 and 2012, as they try to deny you a refund for the illegal water tax they stole, and as they apply pressure to their friends on the Council to make up for all the hardships they've had to endure.
This year we pass out no Special Fringies© of either approbation or opprobrium. We would give them to the same people we did last year.