Local Artist Movin' On Up
A while back we had a new City seal contest here that was won by The Fullerton Savage. The Savage won a CD by local talented artist Nancy Sanchez. Nancy plays regularly at Steamers.
Nancy recently won the Orange County Music Award for "Best Latin" and was also nominated for "Best Jazz" as well.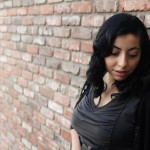 She is currently recording her first full length album of Pop/Folk songs
which she has penned in the last few years, and like most struggling artists, is in need of financial help in order to complete her goal.
Nancy has chosen
www.kickstarter.com
 as a way of connecting with fans and friends in order to help her achieve her goal with donations towards her recording process.
In return for donations, Nancy offers incentives that range from an advanced copy of the finished album, to a brand new acoustic Ovation guitar, House Concerts, a private invitation to the CD release party (in-studio), a Steamers Jazz Club Concert package and even the chance to record a vocal track on one of Nancy's tunes to be used on the recording!
Here is a link to her Kickstarter page:
  …and here is an article just written from the O.C. Weekly.
Co-Producers
Evan Stone & David J. Carpenter