Here is a sly observer expressing his view that a Fullerton cop appears to be more like a soldier than a civilian policeman.
Naturally he is rewarded with a combination of arrogance, error, and attitude by "officer" Contino.
While it is true that Prime Minister Robert Peel established the first permanent and professional police forces in Britain, the use of that factoid to explain and defend a paramilitary organization behaving like an occupying army would be faintly ridiculous if the consequences weren't so, um, deadly.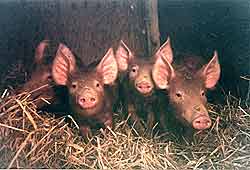 And speaking of Mr. Peel, while living in Tamworth, the versatile gentleman was credited with the development of the Tamworth Pig by breeding Irish stock with some local Tamworth pigs.