Will Ed Royce Renew the Awful Patriot Act?
Of course he will. He's already re-authorized the original bill twice and voted to make it permanent. Why should we think he won't join the majority of Dems and 'Pugs to renew some of the law's more controversial provisions in the coming days?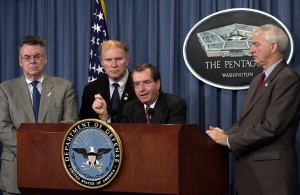 The Patriot Act was created in the rabid aftermath of 9/11 and passed by a broad coalition of legislators who never even read the bill.  It granted federal law enforcement bureaucracies a new range of surveillance powers previously considered unconstitutional by anyone who bothered to read the Fourth Amendment.
Warrantless wiretaps, secret court orders, and immediate access to the Internet history, emails, medical records, public library records and school records of every single American are now available to any agent convinced that terrorism might take place somewhere sometime.
Not a terrorist? The definition of terrorism has been conveniently expanded to include activities previously protected by the 1st amendment, such as protests in inconvenient locations or anything else that fits the vague description of "disruptive activity."
Lost on every foam-at-the-mouth terrorist hunter who embraces this law is one simple reality: the invasive provisions of the Patriot Act apply not only to them evil terrists, but also to every single law-abiding American citizen of the United States.
Thanks, Ed Royce, for another unchecked expansion of government power.