Who Says Six Cops Can't Beat A Man To Death?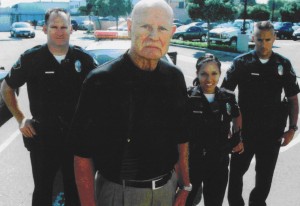 Our knucklehead city councilman and former police chief Pat McKinley, for one. He wants us to believe that it was physically impossible for six cops to simultaneously beat Kelly Thomas to death on that hot July 5, 2011 night at the Fullerton Transportation Center. Of course he has reason to want us to believe that since he is the one who hired the six thugs in question, one of whom failed an LAPD physical.
Is that what happened? I have no idea since McKinley, Goodrich & Co. refuse to release the city's video for fear of "tainting" eyewitness testimony. But check out this sickening video of a guy named Craig Prescott and his seven friendly jailers going to town on him in an 8×8 cell:
I don't know about you, but I'm getting sick and tired of the jackasses we have in charge of this city. They have become habitual and casual liars and still think they can get away with it.