"This Isn't What Happens on Adam 12"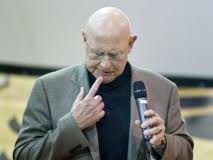 Thus spake newly minted Fullerton police chief in an LA Times article, here, thoughtfully provided by a frequent commenter Jane H.
Pat McKinley was referring to the Rodney King beating at the hands of his colleagues in the LAPD that turned out to be the catalyst for the most destructive riots in American history.
Here's the money quote from the egregious McKinley:
"Hey, we've got to do some training, we have to provide appropriate tools for officers on the streets and we need to go on."
Uh, yeah, Pat. Good deduction. Let's "go on."
Speaking of training, McKinley style, flash forward to the fall of 2010 when McKinley-hire Kenton Hampton knocks the phone camera out of Veth Mam's hands before throwing him to the pavement like a rag doll and dropping his 250 lbs of bulk on the helpless Mam. That'll teach him to document the activities of McKinley's downtown goon squad.
Then flash forward again to the sultry night of July 5th, 2011 when six McKinley hires (including Hampton, again) beat the mentally ill transient, Kelly Thomas, to death. In the aftermath of the killing we now know that digital and film records of the event were purloined by FPD cops at the scene.
If you ask me, what McKinley really learned from the Rodney King case, and what he meant by "training" was to make sure that witnesses who recorded the event were properly shaken down, intimidated and relieved of any incriminating visual evidence.
Oops! Too late. McKinley's crew never dreamed that THEIR own camera would testify against them.